2019 November of Thanks
Nov 04, 2019
Every year we like to share stories of thanks from providers, patients, and staff at HealthCore throughout November. It's one of the many ways we say "thanks" to the amazing community we serve and the fantastic people we have the honor of working with. Follow us on social media to get updates or check back here frequently.
---
Teresa Lovelady, CEO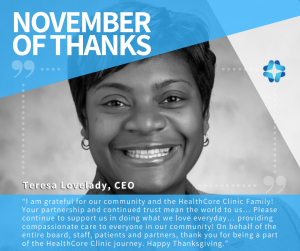 "I am grateful for our community and the HealthCore Clinic Family! Your partnership and continued trust mean the world to us… Please continue to support us in doing what we love everyday… providing compassionate care to everyone in our community! On behalf of the entire board, staff, patients and partners, thank you for being a part of the HealthCore Clinic journey. Happy Thanksgiving."
Maya Nunley, DDS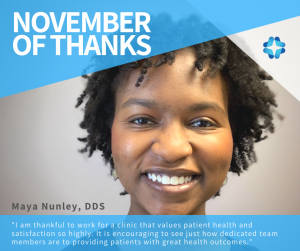 "I am thankful to work for a clinic that values patient health and satisfaction so highly. It is encouraging to see just how dedicated team members are to providing patients with great health outcomes."
Tim Rogers, Board Chair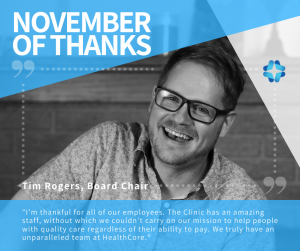 "I'm thankful for all of our employees. The Clinic has an amazing staff, without which we couldn't carry on our mission to help people with quality care regardless of their ability to pay. We truly have an unparalleled team at HealthCore."
Mel Galvez, Chief Strategy Officer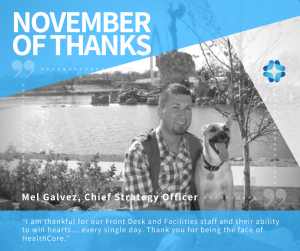 "I am thankful for our Front Desk and Facilities staff and their ability to win hearts… every single day. Thank you for being the face of HealthCore."
Chelsey Wyrick, LPN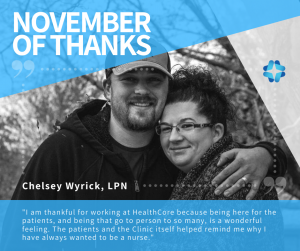 "I am thankful for working at HealthCore because being here for the patients and being that go to person to so many is a wonderful feeling. The patients and the clinic itself helped remind me why I have always wanted to be a nurse."
Sonya Aune, Director of Quality and Risk Management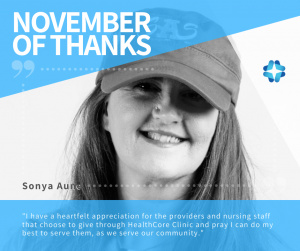 "Since the moment I entered HealthCore Clinic, I could tell this place was special. Until now, I had never had the opportunity to experience public healthcare from an inside viewpoint and what a pleasure it has been! I had always wanted to help out with mission teams, but never felt comfortable with, or called to, travel to other countries. Now I realize, with a fresh perspective, there is a mission field right in our backyards, taking care of each other. I have a heartfelt appreciation for the providers and nursing staff that choose to give through HealthCore Clinic and pray I can do my best to serve them, as we serve our community. I am thankful to be a part of the HealthCore Team!"
---
Do you have a story of thanks you want to share? Contact us today and your story could be featured in November as well. Thanks!