At HealthCore Clinic, we pride ourselves on being a premier medical employer and learning institution for individuals willing to serve the underinsured.
Our "You-Centered" approach to healthcare for our clients only works because we employ, train and retain the best of the best. We have job openings and career opportunities in Wichita, Kansas in both medical and non-medical fields.
Employee Benefits & Salaries
Employment Benefits
HealthCore Clinic offers competitive salaries with benefits for positions in medical and non-medical fields. Not only is HealthCore a renowned employer with excellent employee satisfaction ratings, but we are also innovators in the field of community health services. Some of the benefits we offer include:
HPSA (​Health Professional Shortage Area) s​core of 15
NHSC Loan Forgiveness Program
Competitive Salary and Benefits
Services Provided at HealthCore Clinic
Services HealthCore Provides
HealthCore Clinic is unlike most medical offices you may be familiar with. Our patients are more actively engaged in improving their health through a team-based approach with our providers and staff. We use responsive preventative services, including research-based initiatives that allow our patients access to premier medical advances.
We also have an integrated approach to care, which means our clients have convenient, affordable access to improve their whole health and wellness—with medical, dental, behavioral health, and pharmacy services all under one roof. Our providers use a team-based approach to better connect with our patients and have more resources available to best serve our patient population. Our core services include:
Laboratory Services & Diagnostic
We also offer Women's Health & Wellness, Children's Wellness, Disease Management, Substance Abuse & Dependancy Treatment, and International Health Services.
Employee Testimonials
What Our Employees Have To Say
A recurring theme among our employees is the word "family." We understand that you need to be able to care for yourself to best care for someone else. Don't just take our word for it, hear what our employees have to say.
Maya Nunley
Hear what Maya Nunley (DDS) has to say about working at HealthCore Clinic. Maya practiced dentistry for 8 years at EC Tyree Health & Dental Clinic before joining the HealthCore Clinic team.
She speaks about what it is like working at HealthCore, the team-based approach, and why others should consider joining the team and applying for a job or career.
We provide a multitude of resources, support, education, and advancement opportunities for all our employees. Through these resources and our team-based approach, HealthCore Clinic fosters an environment of inclusion and understanding. Our providers and staff lean on each other, develop lifelong friendships, and find enrichment through the work they accomplish together.
Jeremy Buehner
Hear what Jeremy Buehner (PA) has to say about working at HealthCore Clinic.
Jeremy is a Family Practice PA at HealthCore Clinic and shares why he loves working at HealthCore, why HealthCore is a welcoming place for employees and patients, and encourages others to join the team.
During the COVID-19 Pandemic, HealthCore Clinic not only was able to continue the continuity of care to our entire patient population, but we also had 100% retention of all our employees. We understand the important work and stress of this time, which is why we created paid days off for our providers and staff, provided increased resources, and created fun events to celebrate their accomplishments. We understand the importance of a work/life balance and made sure everyone had time to be with families, have space to take mental breaks, and be rewarded and acknowledged for their efforts and work. As the saying goes, "It takes a village." The HealthCore village rallied together and provided exceptional care that is now being studied by other healthcare organizations as a model of excellence.
Current Job Openings In Wichita, KS
Apply Today!
If you are searching for jobs in Wichita, Kansas — apply today for an exciting opportunity at HealthCore Clinic. We are currently hiring for medical jobs, dental jobs, behavior health jobs, pharmacy jobs, operations jobs, and other non-medical jobs.
Non-medical positions often include:
Receptionist
Patient Care Coordinator
Housekeeping
Facility Maintenance
Financial Analyst
Electronic Records Specialist
IT & Technology
Technician
Operations Professional
Medical positions often include:
Medical Professional
Medical Assistant
Dental Professional
Dental Assistant
Behavioral Health Professional
Social Worker
Pharmacy Professional
For a list of current job openings and career opportunities in Wichita, please visit our Indeed page and apply today!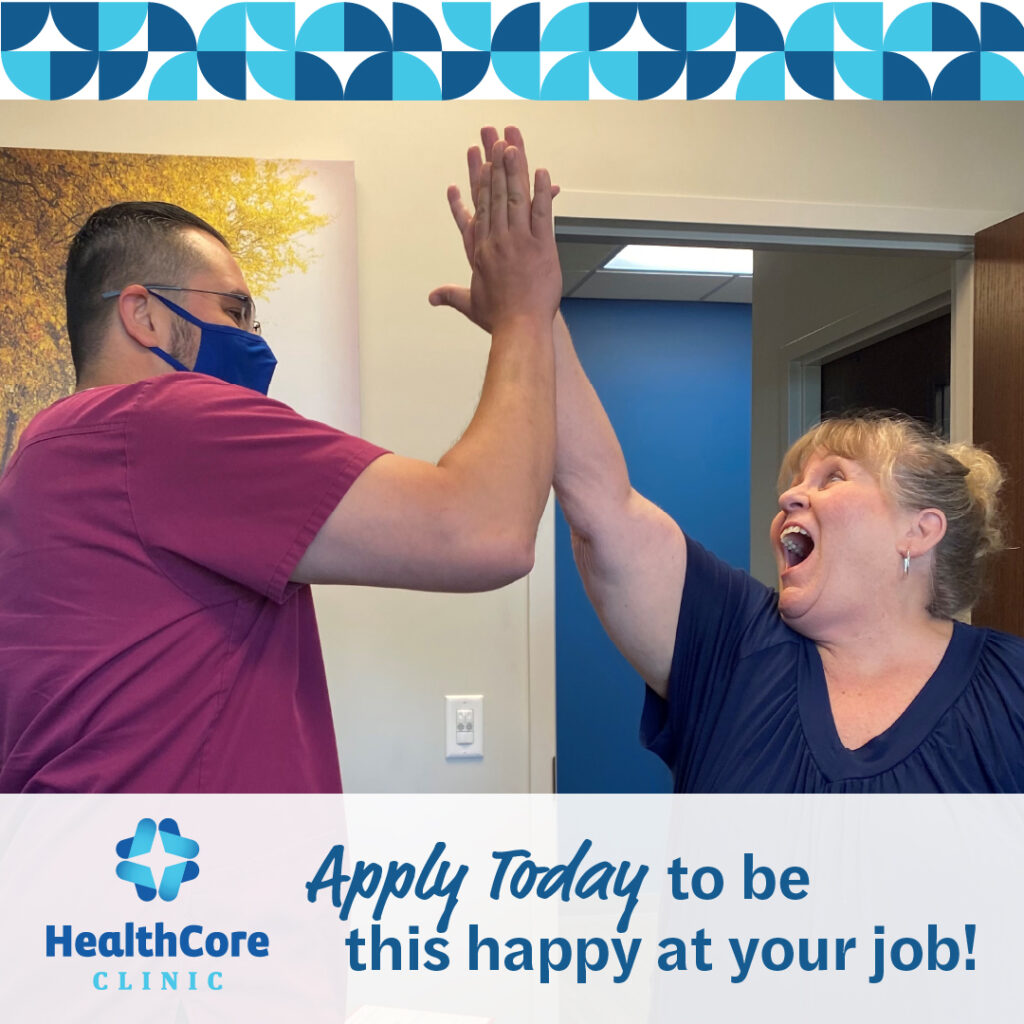 Want to learn more about HealthCore Clinic and why it is a fantastic place to work? Visit our About page.