Family Action Plan Toolkit
Mar 19, 2020
At HealthCore Clinic, we feel it is important to have an action plan in place so you are prepared if the need arises. The Kansas Department of Health has created this helpful tool to help you and your family make a plan. We encourage you to read these, download them, share them, and make a plan.
---
En HealthCore Clinic, creemos que es importante contar con un plan de acción para que esté preparado si surge la necesidad. El Departamento de Salud de Kansas ha creado esta útil herramienta para ayudarlo a usted y a su familia a hacer un plan. Lo alentamos a leerlos, descargarlos, compartirlos y hacer un plan.
---
Read These And Please Share Online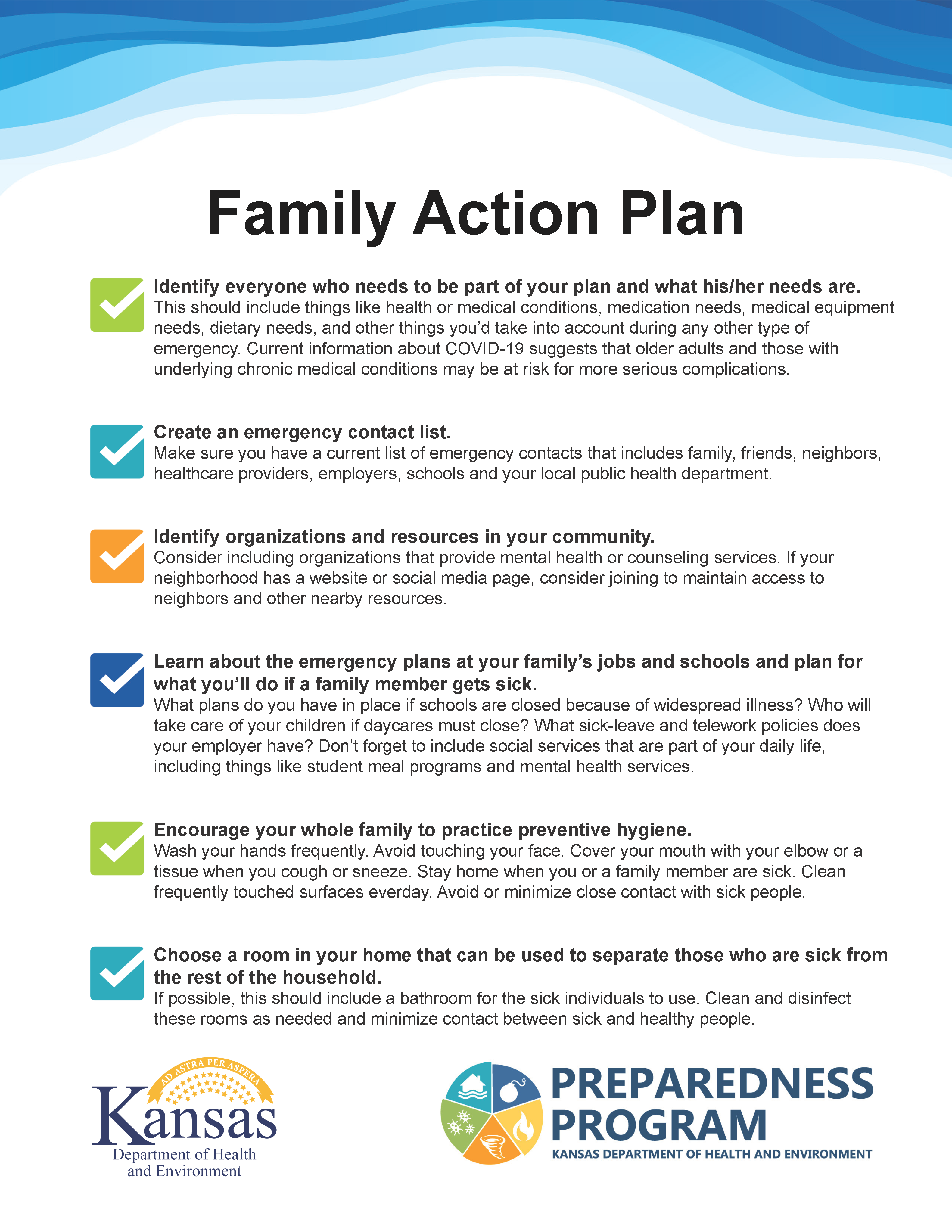 ---
Useful Tools In Different Languages
ENGLISH
SPANISH
COVID-19 (anteriormente conocido como el "nuevo coronavirus") es una nueva cepa del virus que se está propagando de persona a persona. Actualmente se encuentra en los Estados Unidos y muchos otros países, después de originarse en China.
PASHTO
د دې ناروغۍ د خپریدو مخنیوي کې د مرستې لپاره لاندې اقدامات تعقیب کړئ. که ته کویډ – 19 ناروغي لرې یا شک شتون ولري چې پدې ویروس اخته شوی یې چې د کویډ – 19 لامل کیږي، نو په خپل کور او ټولنه کې خلکو ته
TIGRYNA
ናይናይ COVID-19 ሕማምሕማም ምስምስ እትሓሙ፡እትሓሙ፡ ወይድማወይድማ በቲበቲ COVID-19 ዘሕምምዘሕምም ቫይረስቫይረስ ተጠቒዐተጠቒዐ ኢልኩምኢልኩም ምስምስ እትጥርጥሩ፡እትጥርጥሩ፡ እቲእቲ ሕማምሕማም ንኣብንኣብ ቤትኩምቤትኩም ይኹንይኹን ኣብኣብ ማሕበረሰብኩምማሕበረሰብኩም ዝርከቡዝርከቡ ሰባትሰባት ከይመሓላለፍከይመሓላለፍ ምእንቲ፡ምእንቲ፡ ነዞምነዞም ዝስዕቡዝስዕቡ ስጉትታትስጉትታት ክትክተሉክትክተሉ ይግባእ።ይግባእ።
SWAHILI
Ikiwa una ugonjwa wa COVID-19 au ukishuku kuwa umeambukizwa virusi vinavyosababisha COVID-19, fuata hatua zifuatazo ili kusaidia kuzuia ugonjwa huo usisambae kwa watu walio nyumbani kwako na katika jamii.
SOMALI
Haddii aad qabto COVID-19 ama aad ka shakisan tahay inaad qaadday fayraska keena COVID-19, raac tilmaamaha hoose si aad gacan uga gaysato kahortagga cudurka inuu ku faafo dadka gurigaaga jooga ama bulshada.
KINYARWANDA
Karaba intoki ukoresheje isabune n'amazi mu masegonda 20-30. Niba intoki zanduye, karaba intoki ukoresheje isabune n'amazi, udakoresheje imiti isukura intoki, mu masegonda 40-60. Koresha imiti isukura intoki cyangwa amazi arimo kolore, igihe isabune n'amazi bidahari.