Free COVID-19 Tests At Our Mobile Clinic
May 09, 2020
Our top priority is the health and safety of you and your family. Thanks to Quest Diagnostics and a number of community partners, we are offering COVID-19 tests to the community, free of cost to the patient, while supplies last.*
Beginning May 11, through the month of May, we will be providing tests in the WSU Metroplex Parking Lot located on 29th St. just east of Oliver.
Testing will be Mondays – Thursdays from 2-5 PM while supplies last.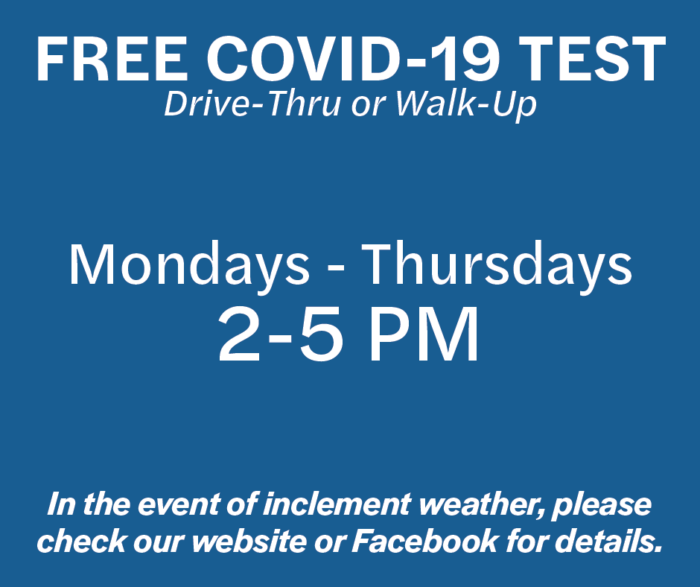 Everyone is eligible to participate, you do not need a doctors referral, and you do not need to be experiencing symptoms to get tested. If you want to get tested, you can get tested.
Using our mobile clinic, we will be conducting drive-thru or walk-up tests that are fast, safe, convenient, and free!
Please bring your ID and insurance information. If you do not have this information, that is okay. No one will be turned away while supplies last. In the event of inclement weather, please check our website or Facebook for details.
Mondays – Thursdays
2 PM – 5 PM
Metroplex at 29th & Oliver
Bring ID & insurance (if you have)
While supplies last
Check website if bad weather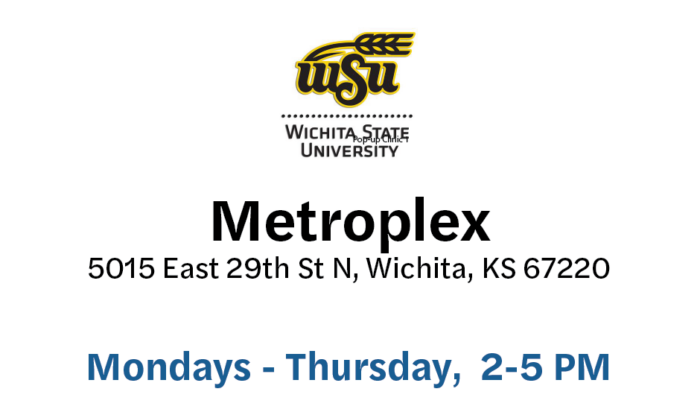 FAQs
Where Do I Go?
The WSU Metroplex is located at 5015 East 29th St N, Wichita, KS 67220. If you do not have transportation, the Wichita Public Transit Route 202 has a stop at the Metroplex. The entrance to the mobile clinic will be from the eastern 29th St entrance as marked on the map below, the Oliver entrance will be blocked. WSU Police are on hand to coordinate traffic. Please be patient and respectful of each other as there will be lines to get in. We will be testing as fast as safely possible.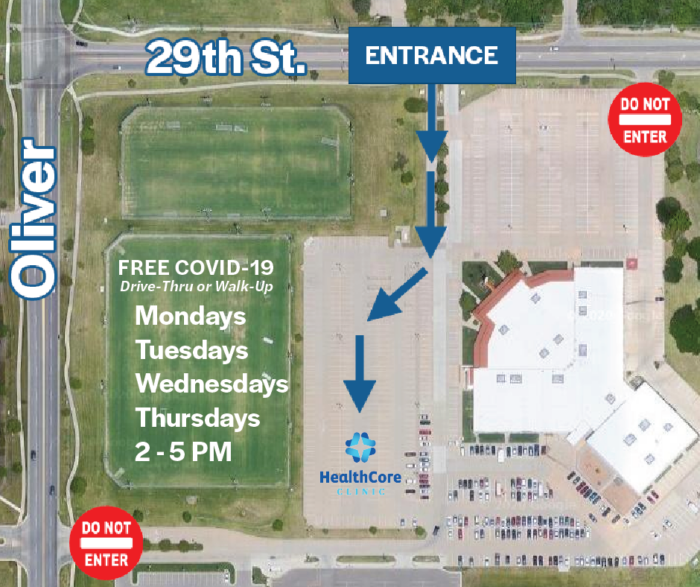 How Is It Free Of Cost To Me?
HealthCore Clinic is a nonprofit community clinic located in NE Wichita that was founded in 1998. We see everyone, regardless of their financial situation. What this means is, we see everyone regardless of their ability to pay. Through our amazing partners at Quest Diagnostics as well as Sedgwick County Health Department, Kansas Health Foundation, and the Sunflower Foundation, HealthCore Clinic is able to offer this much-needed testing completely free of cost to the community. The tests at HealthCore Clinic are the Covid 19 swab test CPT 87635 ($63.00). If you have insurance, the cost of the test will be covered by your insurance. If there are any remaining fees your insurance does not cover, this will be covered by HealthCore and our partners to ensure there is no cost to you. If you do not have insurance, the entire cost of the test will be covered by HealthCore and our partners. Due to this, we have a limited quantity of tests which we can cover the costs of – this is why the free of cost element is "while supplies last."
What Should I Expect?
Upon entering the WSU Metroplex, a member of our staff will provide you with information and ask you a questions for data for the State of Kansas on COVID-19 testing. This data also helps us set sliding scale fees for patients in the future since we are a nonprofit community health center who offers high-quality care regardless of financial situation. WSU Police are on hand to help direct traffic, and there is a bathroom if you need to use a facility.
Once you have reached the mobile clinic, a nurse or doctor will gather your information and explain the test, which is a Nasopharyngeal swab, COVID-19 viral PCR test, this involves inserting a swab in your nostril to collect a sample from the rear of your nose and throat area. Your photo may be taken using our check-in tablet to ensure your test is administered to you, your ID and insurance (if available) will be scanned, and you will be asked a few short questions such as "do you have adequate access to food?" The nurse or doctor will now go back to the mobile clinic to get your information entered and have your test prepared.
Once your test is prepared, the nurse or doctor will return to administer the test and confirm your ID by looking at the photo of you taken earlier. If you are a drive-thru you will remain in your car. If you are a walk-up you will sit in a chair in the walk-up testing area. You will be provided a tissue and asked to blow your nose. With your permission, the nurse or doctor inserts the swab gently through the nostril to the rear of your nose and throat. It is turned slowly to a count of 10 to obtain a sample for accuracy and then gently removed. You will feel some pressure in your nasal cavity and your eyes may tear up during this test. Your swab is then sealed in a container to be sent to the lab for testing and the nurse or doctor will check to see if you have any questions before you leave.
When Will I Get My Test Results?
Test results will take 2-5 business days on average, however, times may be longer at times due to high volume. Based on CDC recommendations, samples sent to Quest Labs are prioritized based on current symptoms, risk factors, living facilities, and people who are first responders or healthcare providers. At the time of your test, you will be given a packet of information on how to retrieve your test results through the MyQuest portal or app. If your test results are negative, MyQuest has information and resources to help keep you safe. The lab will not contact you if your test results come back negative. (See "How Do I Get My Test Results" for more details) If your test results are positive for COVID-19, a member of HealthCore Clinic will contact you directly via phone as soon as we have your results to ensure you get connected to the services you need.
How Do I Get My Results?
At the time of testing, you will be given a packet with details on your test from Quest Diagnostics. Your results are available through their secure MyQuest online portal or app which you will need sign up for if you do not have an account yet. Here are the steps:
Sign up for MyQuest at MyQuestDiagnostics.com or download the MyQuest app from the App Store or Play Store on your mobile device.
Check your email for a message from Quest. Click the link to confirm your email address.
Log in to your MyQuest accountusing the username and password you chose when signing up.
Select the "Verify Your Identity" option. Accept the Patient Authorization (HIPPA Authorization).
Complete the Identity Verification Process.
You're all set! You will now get your Quest Diagnostics test results through your MyQuest account.
Your MyQuest account needs to have the same information you provided at the time of your test such as first name, middle name, last name, address, date of birth, and phone number. If this information does not match, you may not be able to access your results. If you are having issues logging in to MyQuest or need help with your account, call 866-MYQUEST (866-697-8378).
What If The Weather Is Bad?
We will be posting updates on our social media. If we need to pause or cancel for the day, we will post the update there. Be sure you are following us to get the latest updates:
I Came But The Lot Was Closed.
We have capacity for between 150-200 tests per day at this time. This will fluctuate based on the weather and other conditions. Once we have reached our capacity, we will close the parking lot. Those inside the lot will get tested, those who were unable to come should come back at the next testing date. We are testing Mondays-Thursdays, 2-5 PM, while supplies last. We will post updates about capacity on our social media pages. Be sure you are following us to get the latest updates:
Do You Have A Flyer I Can Share?
Yes we do. Below, please find the download links to our flyer in different languages.
A Note From Our President & CEO
"We know the COVID-19 Coronoavirus is disproportionately affecting our community. If you want a test, if you need a test, or you think you may have come in contact with the virus…come get tested. It's convenient, it's free, and it's safe. We are grateful to Wichita State University for the opportunity to use the Metroplex parking lot for these tests. Their staff and campus police have been outstanding community partners and we are honored to be working together as neighbors to offer this resource."

-Teresa Lovelady, President & CEO of HealthCore Clinic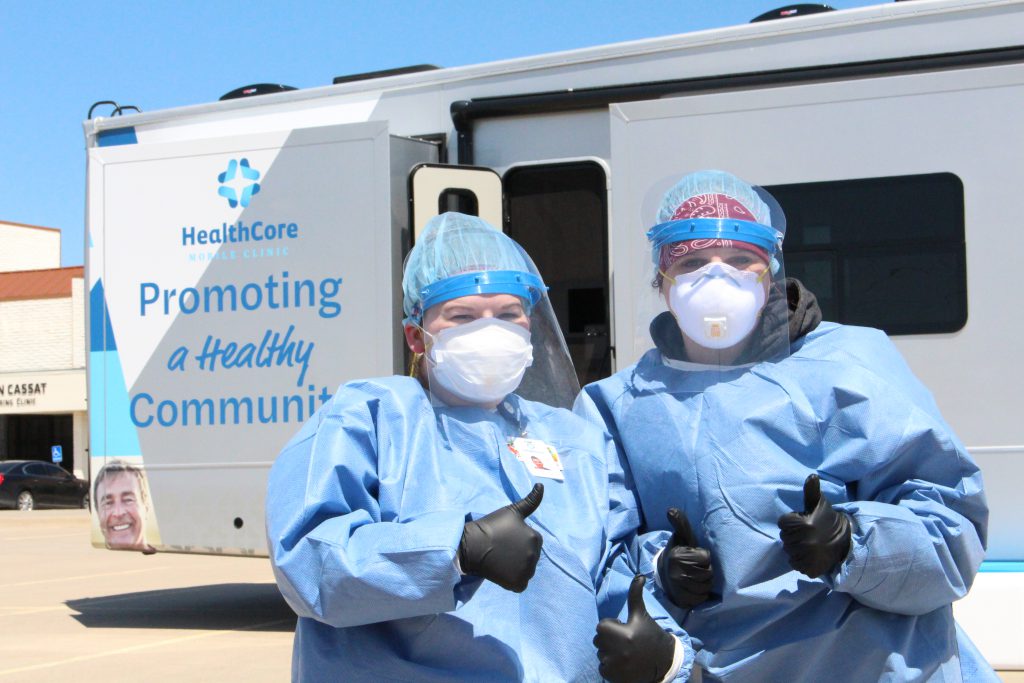 Please share this information with everyone you know so we can spread knowledge and resources instead of this virus. Thank you.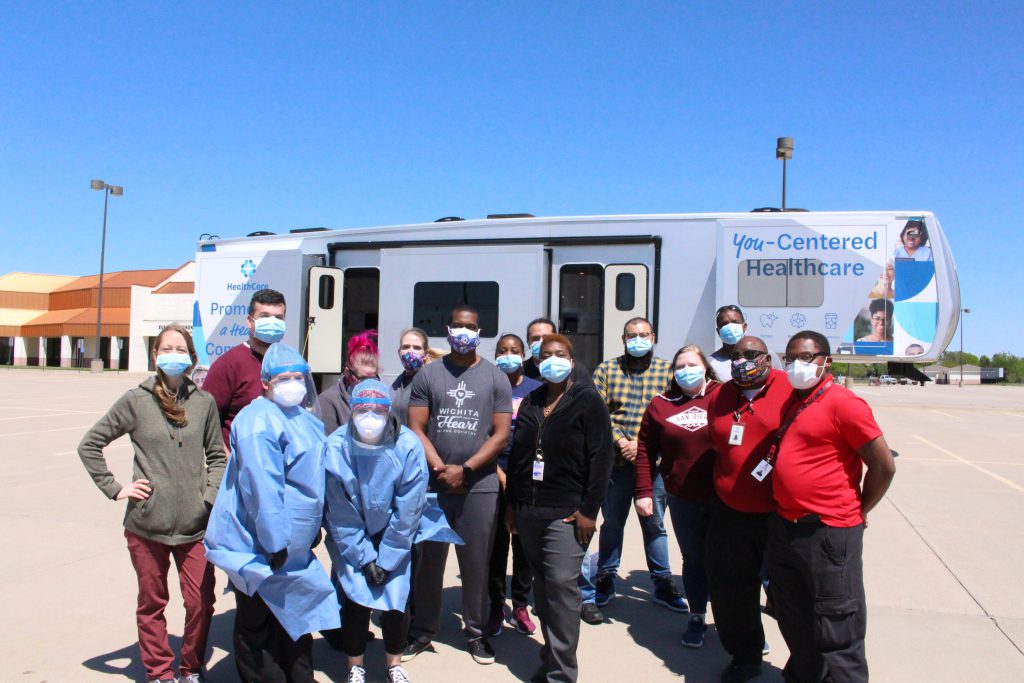 Interested in finding out if you may have had COVID-19 in the past? The antibody test is available only by appointment at HealthCore Clinic (not the mobile pop-up testing site). This test identifies the presence of antibodies that indicate that a person had an immune response to COVID-19. A positive result to this antibody test indicates that you may have had previous exposure to COVID-19 and your body has developed antibodies. Call (316) 691-0249 to learn more and schedule an appointment.
Tests at HealthCore Clinic are the Covid 19 swab test CPT 87635 – $63.00
*There will be no cost to the patient for this test.