What are Income Based Clinics
Oct 03, 2020
During the Civil Rights era of the 1960's, the nation's first community health clinics launched under President Johnson's Office of Economic Opportunity. The mission was to combat poverty and improve the lives of American communities through access to health care services. This movement has grown over the years to over 1,400 community health centers providing health care to nearly 28 million people across the nation.
A free health clinic offers low income patients and those without insurance a wide array of services ranging from free to sliding scale services. If you have said, "I need health insurance but can't afford it," income based clinics using a sliding scale for low income patients is a great solution.
Income based clinics and free clinics in Wichita offer a sliding scale for low income patients, low cost health clinic services, a prescription assistance program, and more.
How does a sliding scale clinic work?
Sliding scale health care is a type of fee structure used by income based clinics to reduce fees for patients with fewer resources. The amount owed for services by eligible patients are adjusted based on the patient's ability to pay. The less income you have each month, the less you pay for your health care services at a community health clinic.
A sliding scale for low income patients provides options for those with low income, no insurance, or a need to self-pay. If you have enough money to pay the full cost or have insurance, you will be billed the clinic's standard fee. But if you're facing financial challenges that hinder your ability to pay, you'll be provided with options at a reduced rate.
For example, at a sliding scale health clinic where the full price is $100 for a standard medical visit, if you make less than $40,000 per year, your fees may be $75 for a medical visit. If you make less than $27,000 per year, your fees may be reduced to $25 for a medical visit. The sliding scale for low income patients at income based clinics are based on figures from the Federal Poverty Guidelines which change annually.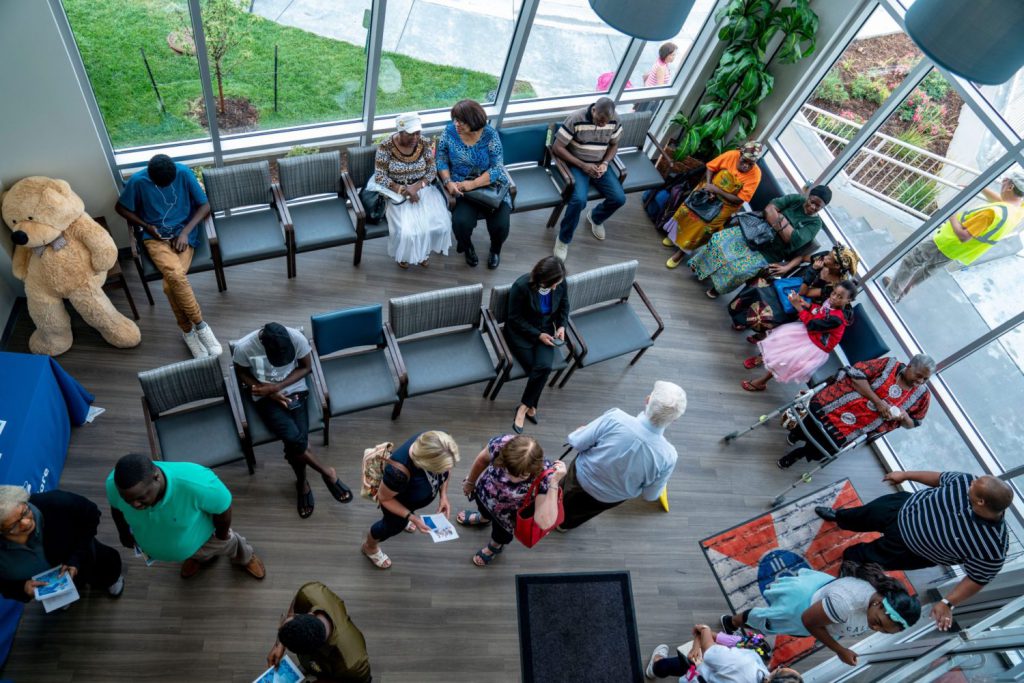 Affordability
Healthcare for All
Financial concerns should not be a barrier to receiving high quality healthcare services.
We accept most insurance, offer sliding scale fees, discounts, and Care Coordinators to help.
What does a free clinic offer?
A free health clinic is a non-profit health care facility, funded by the government or private donors, that provides health services such as primary and preventative care to the medically underserved. Free doctor services may also include dental, behavioral counseling, diabetic management, diagnostic testing and imaging, pharmacy consultations, physician visits, pregnancy testing, women's health care, and other specialty services.
What is the difference between hospital and clinic?
Health clinics are health care centers where you receive routine preventative care when you are healthy or visit your primary care provider when you are sick. A community health clinic is smaller than a hospital where patients are less sick and do not stay overnight. Typical reasons to visit a clinic include routine medical appointments, routine dental appointments, regular behavioral health appointments, diabetes management, immunizations, and appointments when you feel sick. You should schedule an appointment to visit your provider or doctor at the clinic.
Your doctor or primary care provider will refer you to a specialist or hospital if you require medical attention outside of the services offered at a clinic. If you have an emergency, you should go directly to the hospital. Health issues addressed at a hospital may include medical emergencies, an appointment with a specialist, or a specific medical treatment such as a surgery, operation, or birth.
Prescription Assistance Program
Patients of HealthCore Clinic have the opportunity to participate in the 340B Program and state pharmaceutical assistance programs, which may provide lower-cost medications. The 340B prescription assistance program enables HealthCore Clinic to stretch federal resources as far as possible, reaching more eligible patients and providing more comprehensive services. Using HealthCore Clinic's on-site pharmacy, not only can 340B drastically reduce certain prescription drug prices, our pharmacists can work with you to find the right prescription and help manage your refills conveniently.
The HealthCore Clinic Community Pharmacy provides convenience and savings typically not found at traditional pharmacies such as Walgreens and CVS. We accept KanCare / Medicaid, Medicare, and private insurance. Sliding scale fees and prescription assistance are great solutions for those not covered by insurance.
Do I Need An Appointment
Yes, most income based clinics will require you to make an appointment first, unless they expressly state they allow walk-ins.
An appointment is required for your first visit to HealthCore Clinic. You can request an appointment online or by calling 316-691-0249. Like most walk-in medical clinics we have certain days, such as weekends, walk-ins are allowed. Patients are encouraged to call first to verify walk-ins are being accepted that day.
For a first visit to HealthCore Clinic, patients will be given a new patient form to fill out in advance that covers insurance, medical history, sliding scale fee, and pertinent medical information.
What you'll need to bring to your first appointment:
Valid ID (if available)
Proof of Insurance (if available)
Current Pay Stub (for sliding scale fee)
Form of payment (if available)
Low Cost or No Insurance Clinics in Wichita
There are a few medical clinics in Wichita offering sliding scale for low income patients, free health services, medication assistance programs, and state pharmaceutical assistance.
HealthCore Clinic is the most state-of-the-art facility of the income based clinics in Wichita and no insurance clinics. Our integrated care approach means that our clients have convenient, affordable access to improve their whole health and wellness all under one roof.
HealthCore Clinic is unlike most medical offices you may be familiar with. Patients are more actively engaged in improving their health through a team-based approach. We use responsive preventative services, including research-based initiatives that will allow patients access to premier medical advances. We also participate in the 340B prescription assistance program which may provide lower-cost medications to patients.
Other income based clinics in Wichita include Hunter Health Clinic and GraceMed Health Clinic. While GraceMed Good Samaritan offers a wide array of services as well, they are spread out across Wichita which often requires patients to go to numerous locations. At HealthCore Clinic, medical, dental, behavioral health, and pharmacy services are all conveniently located under one roof. We support and advocate for our fellow medical clinics in WIchita, we are all working together to provide quality health care to our community.
Guadalupe Clinic is one of the free health clinics in Kansas that works to provide access to quality health care for people without access to money or insurance. As missionary disciples of Christ, Guadalupe Clinic offers primary care and speciality services to this underserved population at their free clinic. Income based clinics like HealthCore Clinic agree that financial concerns should not be a barrier to receiving high quality healthcare services.
If you are searching for a "low cost clinic near me" or "medication assistance programs near me," HealthCore Clinic is centrally located within a 15 minute radius of anywhere in Wichita. We are conveniently located on 21st Street between I-135 and Wichita State University.
Plan Your Visit
Hours
Mon–Thur: 8am – 7pm
Friday: 8am – 5pm
Saturday: 8am – 12pm
Sunday: Closed
Hours are temporarily limited due to COVID-19.
Location
HealthCore Clinic
2707 E 21st St N
Wichita, KS 67214
Phone
After-Hours Immediate Care: (316) 262-6262
Fax
Clinical Fax: (866) 514-0974
Dental Fax: (888) 662-7106