Season of Thanks at HealthCore
Nov 09, 2020
Every year at HealthCore Clinic, we take pause to share the things we are thankful for. This has been an unpresented year full of challenges and hardships for the frontline workers of this clinic and medical personnel around the globe. As we look to the future, we remember the past and give thanks for all that we have.
We are thankful for life, love, and laughter — three things we find in our clinic each day. We are thankful for friendship, patience, and forgiveness — the foundation of the relationships we forge with each other. We are thankful for you — you are why we are here. We are thankful for each other — we are stronger together. We are thankful for this community — we are here to serve you, and you continuously serve us in return with your love, gratitude, and thankfulness.
We are thankful for all that we have. We are thankful for all that you have. And we are thankful to be "in this" year with you.
What Our Staff Has To Say
We asked our staff to share what they are thankful for this year, and here are the amazing things they had to say.
Megan Pinkley
"I am grateful for beginning my position at HealthCore early this year, despite starting right before a pandemic. Before that, I had not known a world where everyone was treated the same despite their ability to pay. I did not even know there was a place with this many genuinely good people all working together for the greater good. The past 8 months have taught me so much about growth, human potential and what is really means to put others before yourself. This clinic, its leadership and mission are truly one of a kind."
Megan Pinkley, LAC/ Case Manager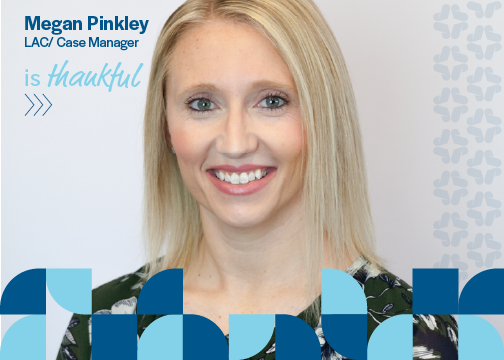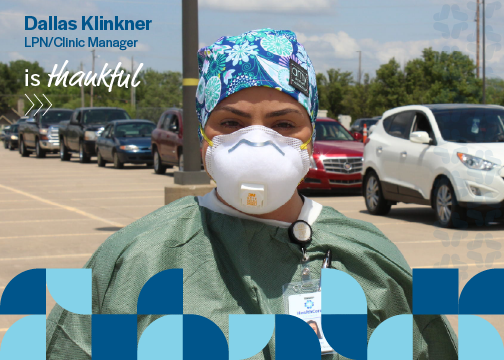 Dallas Klinkner
"I want to show gratitude and give thanks to the wonderful team of Nurses, Medical assistants, C.N.As and phlebotomists that I have the privilege of leading. I am honored to serve our community with each of them by my side. They have all displayed courageous, selfless, and genuine care for those in our community and most importantly those that needed/need us the most during COVID-19. Thank you for your long shifts, flexibility, dedication and being on the frontlines! We truly have an amazing team here at HealthCore."

Dallas Klinkner, LPN/Clinic Manager
Penny Jeffery
"I am so thankful for the wonderful co-workers who are also my friends. They have hearts of gold, doing whatever it takes to help our patients succeed and sometimes to survive. The food pantry; the behavioral health intervention to help a homeless man find housing; the dental department reaching out to help with hepatitis C testing and improve the chances of success in our substance abuse patients; the dedication of all of the "behind-the scenes" support staff that keep us open and running – So many people working so hard for long hours. I am grateful this holiday season."
Penny Jeffery, MD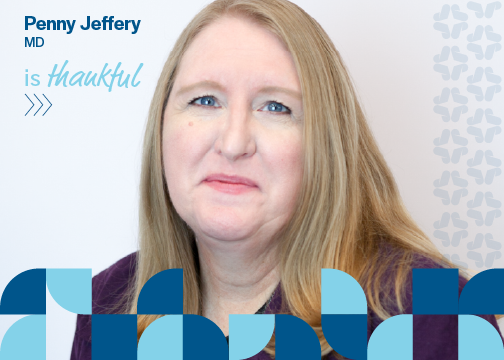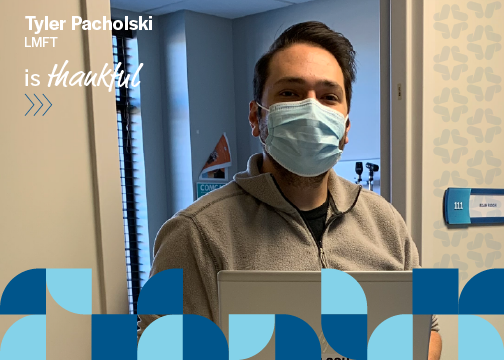 Tyler Pacholski
"I am thankful for the opportunity to serve others in their time of need and to be a part of the healing process for many who need it especially now. We all can use a little help from time to time, and being there for each other is a wonderful thing."

Tyler Pacholski, LMFT
Shannon Pierce
"I am so thankful for the incredible team at HCC. It is a team made up of hard-working, dedicated, and compassionate individuals! They not only show up for the patients and community each day, but also for each other. Watching each person play their part and use their gifts and skills is one of my favorite parts of working here. Thank you HCC for all you do to get the job done each and every day! We are a strong team."
Shannon Pierce, PA-C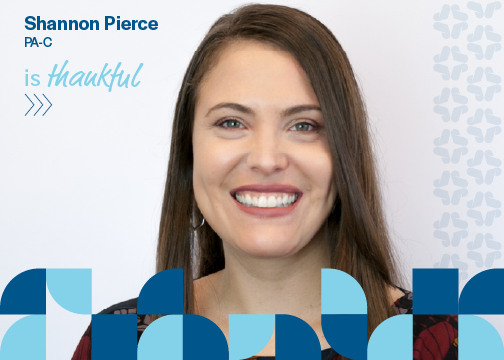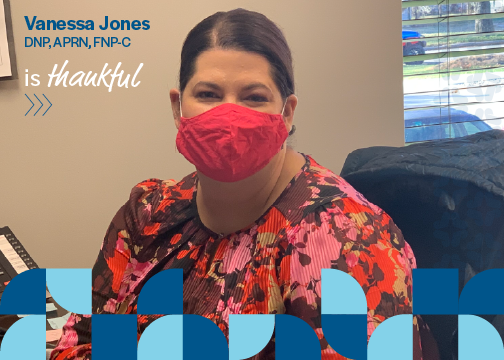 Vanessa Jones
"I am grateful for being graciously accepted onto the HealthCore team as a new clinician. I am also thankful for the families we serve and for them allowing me to participate in the care of their children. In a year with so much uncertainty, I am blessed to have the opportunity to serve the community. Happy Thanksgiving!"

Vanessa Jones, DNP, APRN, FNP-C
Jeremy Buehner
"I am thankful for our staff here at HealthCore. As a whole we accomplish and do so many AMAZING things!! I am especially grateful for the staff on my back office team Erica Hill and Amy Busch. My job as a provider would be SO MUCH TOUGHER without them!! Overall I feel very blessed and grateful to be a part of the HealthCore Team. Happy Thanksgiving!"
Jeremy Buehner, PA-C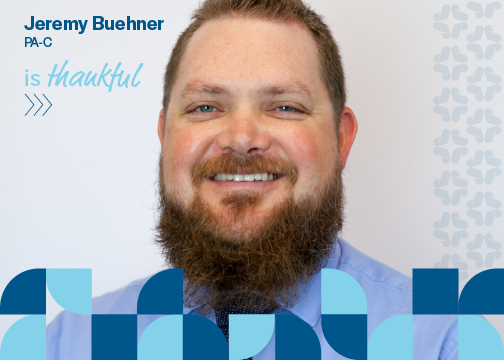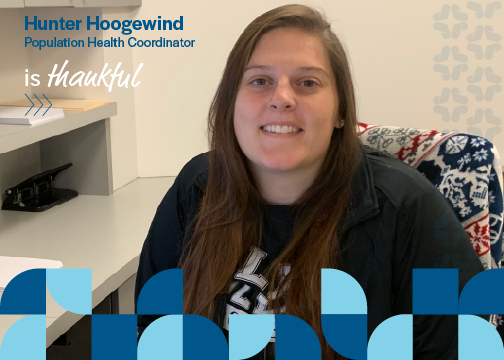 Hunter Hoogewind
"I am most thankful for the new opportunities and challenges we have all faced this year. Whether that was departmental challenges or the unforeseeable challenges that COVID brought along with it. I feel this year I was not only able to grow independently but, also grow within Healthcore. During COVID testing in May, I was able to work directly with different departments that I normally would not have worked with. I was able to get to know fellow coworkers, that I otherwise probably wouldn't have. I am not saying I am thankful for COVID, but I am thankful for the new employee friendships and the constant support shown in every department through this pandemic."

Hunter Hoogewind, Population Health Coordinator
Cheryl Crane
"I am thankful most for my family.. Not just the family I was born into, but also my HealthCore family.. It is such a privilege to work with such inspiring and compassionate people. I am also thankful to be in a position where I can help others heal, grow and blossom. Touching others lives is truly a blessed gift everyday."
Cheryl Crane, Front Desk Manager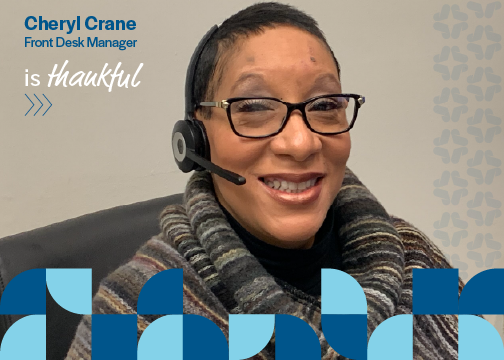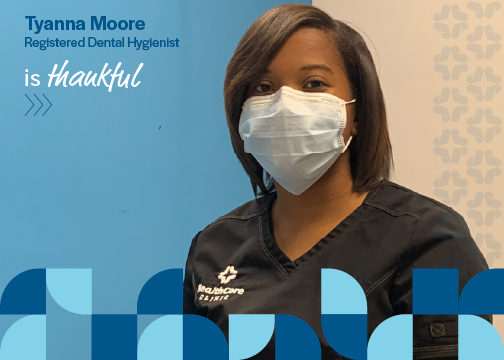 Tyanna Moore
"I am thankful for the opportunities and leadership that I have been able to learn and grow from at HealthCore Clinic. With every opportunity, I have been able to work with amazing teams who are now family. I am also grateful for everyone here at HealthCore Clinic. Being able to watch lives change because of the generosity and abundance of love here at the HealthCore has been incredible. Thank you all for EVERYTHING you do for our patients and coworkers."

Tyanna Moore, Registered Dental Hygienist
Erica Davis
"Thanksgiving allows us an opportunity to reflect on the blessings we have all had. I am thankful for a challenging yet wonderful year. I think regardless of the challenges, our family at HHC stayed together and we supported each other. I am thankful for the leadership, our employees and our patients."
Erica Davis, Chief Operating Officer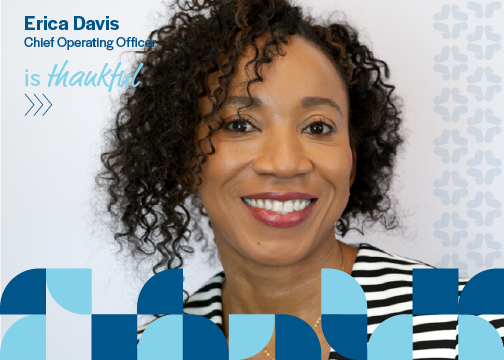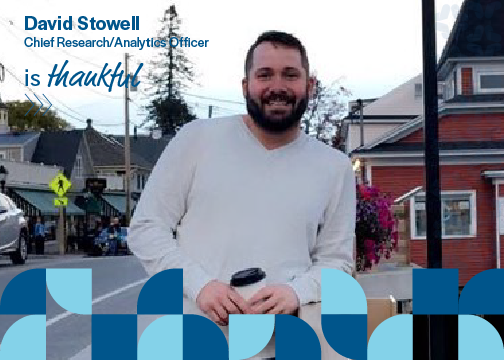 David Stowell
"I'm thankful for HealthCore Clinic's community partners. Together, HCC and its community partners are working to address social and policy barriers in order to provide better access to affordable, comprehensive, patient-centered care."

David Stowell, Chief Research/Analytics Officer
Davna Gould
"We all know how challenging 2020 has been, but when I really sit and think about all of the things HealthCore Clinic was able to accomplish for our patients and the community during this pandemic, I am truly thankful to be a part of this team! I am thankful for the dedication, teamwork, for the support, and the grace every one of the team members have demonstrated during this year! I am thankful for the community that came together to share words of encouragement with our staff, developed and donated resources and essential PPE during a time when it was hard to find. Wichita is a wonderful and supportive community and for that I am thankful! I am proud to be a member of the team at HealthCore and look forward to the future."
Davna Gould, Chief Marketing/Communications Officer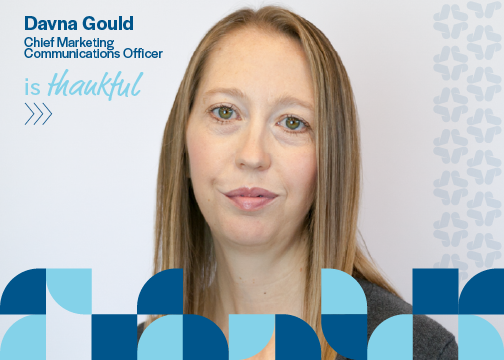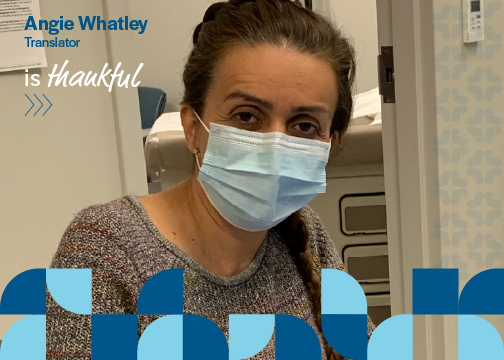 Angie Whatley
"Estoy muy agradecida por todas las atenciones que he recibido aqui en Healthcore he tenido muchas experiencias super especiales con personal medico y pacientes, es un privilegio trabajar aqui por que veo el amor y la dedicacion de todo el personal."

Angie Whatley, Translator
Mel Galvez
"We have all overcome hardships and embraced many changes during the last year. As a result, we are stronger individually and as a team. I am so thankful for our partners who work tirelessly in support of our shared mission to meet the healthcare needs of our community. Most importantly, I am grateful for the opportunity to collaborate with an incredible team of providers, nurses, and professional staff. Please accept my sincerest thank you and appreciation for your expertise, passion, and dedication during these changing and difficult times."
Mel Galvez, Chief Strategy Officer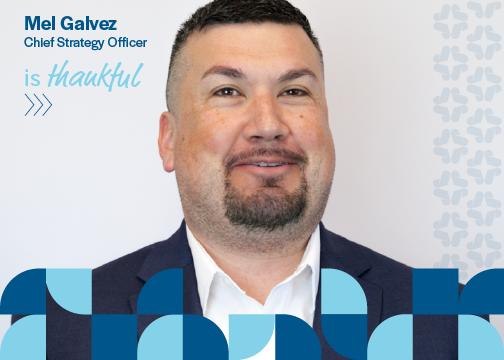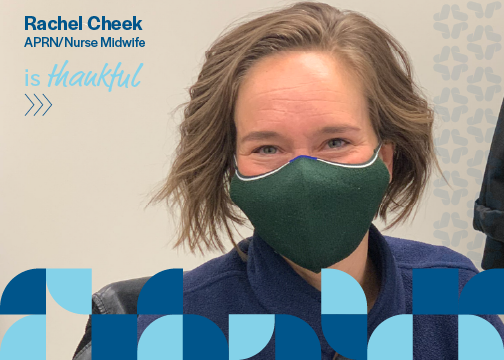 Rachel Cheek
"I am thankful for this job. Every day I work with wonderful people to actively aid the community and individuals through this time of uncertainty. I am so blessed."
Rachel Cheek, APRN/Nurse Midwife
We will continue to update this page and add more quotes throughout the month of November — be sure to check back soon!
What Are You Thankful For?
Want to share with us what you are thankful for? Leave us a review on Google telling us what you are thankful for and how many stars you rank HealthCore Clinic.