Earth Day Activities in Wichita
Apr 22, 2021
Earth Day is an event celebrated each year on April 22 to show support for environmental protection. The first celebration was on April 22, 1970, making this year's celebration the 51-year anniversary. While Earth Day is only 1 day, here are some tips and activities you can do outside in Wichita all year long to appreciate and support the environment of Sedgwick County.
Visit A Park
Did you know Wichita has 126 parks, including a number of public open spaces that totaling over 5,007 acres of park land? That's a lot of public outdoor space! You can explore all of Wichita's outdoor spaces using the City of Wichita's Interactive Park Map. There are a number of parks walking distance from HealthCore Clinic, here are a few of our favorite outdoor spaces:
McAdams Park
Located in the heart of Wichita and walking distance from HealthCore Clinic is McAdams Park, a 57 acre park with sprawling fields, playgrounds, hiking/biking trails, basketball courts, tennis courts, baseball diamonds, charcoal grills, picnic areas, public bathrooms and more. Did you know this park was named for Emerson McAdams, a former city policeman who served 27 years as director of the park?

Dr. Glen Dey Park
Located in North Wichita and walking distance from HealthCore Clinic is Dr. Glen Dey Park, a massive 125-acre park with walking/biking paths, wooded areas, picnic areas with shelters, playgrounds, football fields, public restrooms, an exercise/fitness trail, and more. Did you know part of the K-96 bicycle path runs through this park?

Chisholm Creek Park North
This gorgeous portion of the Chisholm Creek Park System is located in northeast Wichita near K-96 and Woodlawn. Chisholm Creek Park North is more of a nature center with wooded areas, walking trails, bridges, and shelter areas along Chisholm Creek. To its west by a block is the Chisholm Greenway, which connects to Dr. Glen Dey Park.

Pawnee Prairie Park
Located in southwest Wichita next to Tex Consolver Golf Course and Eisenhower National Airport, Pawnee Prairie Park has over 400 acres of natural park land with trails for hikers, bicyclists and equestrians, along with other amenities. Equestrians and bicyclists have dedicated paths and trails within the park, while hikers are free to roam and explore. We love how parts of this park feel like you are miles away from civilization as you cross bridges over rivers, walk through the woods, or run through the open fields. Hawks, eagles, and other birds are often spotted along with deer and other wildlife. The park has public restrooms, covered shelter areas, playgrounds, picnic areas, and more. There is even a butterfly garden you can visit on its south border.

Riverside Park
Located just west of downtown Wichita in the Riverside neighborhood is one of Wichita's most popular parks, Riverside Park. Over 60 acres of park land with winding paths along the Arkansas River, shady trees, picnic areas, playgrounds, interactive water fountains, public restrooms, and an amazing Kansas Wildlife Exhibit. It is a short walk from Botanica, Wichita's botanical gardens, as well as the Wichita Art Museum.

Sedgwick County Park
Another fan favorite of all Wichitans is Sedgwick County Park, located in northwest Wichita by the Zoo. This massive park features miles of hiking/biking trails, fishing lakes, shelters, picnic areas, charcoal BBQ grills, basketball courts, tennis courts, softball fields, horseshoe pits, bocce courts, public restrooms, playgrounds, and much more. There's even a sledding hill for winter fun. You can easily spend the entire day at this park! You can walk or ride your bike to the Sedgwick County Zoo which is located right next door.
Go For A Bike Ride or Walk
There are bike trails throughout Wichita ranging from short meandering rides through neighborhoods, to long-distance treks that take you from one side of town to the other. The City of Wichita maintains more than 100 miles of bicycle paths, lanes, and other bicycle facilities. Many of the paths travel through and along scenic areas, such as the Arkansas River. There are a number of paths near HealthCore Clinic you can walk or bike to. Here are a few bike and walking paths we love to frequent:
McAdams Path
The McAdams Bike Path runs through to the northern edge of McAdams Park, walking distance from HealthCore Clinic, and provides an important connection between two other popular trails: the K-96 Bicycle Path and the Canal Hike and Bike Trail. Together, these trails provide a critical and continuous loop through Wichita's neighborhoods and workplaces on the city's east side. Along the way, trail-goers will enjoy the natural settings of McAdams Park, Grove Park, and Chisholm Creek Park.
Parking is available at McAdams Park (1329 E. 13th St. North), Grove Park (2801 N. Grove) and Chisholm Creek Park (3228 N. Oliver).
Redbud Trail
The Redbud Trail takes bike-riders and hikers on a comfortable journey via the former BNSF railway corridor that runs right through Wichita's downtown. The trail passes through residential areas, churches, and parks up to East 17th Street, close to Wichita State University and walking distance from HealthCore Clinic. Near HealthCore Clinic, the trail is paved and frequented by bicycle riders, families walking dogs, and people out for a stroll. As the trail extends east and west, it becomes a gravel pathway more suited to walking than bicycle-riding.
There are 3 trailheads, marked by distinctive steel arches. The trailheads, known as pause points, feature amenities such as benches, signage, and parking. The 3 trailheads are located at:
9th & Hillside, near Wesley Medical Center,
13th & Roosevelt, near the MacDonald Golf Course
17th & Oliver, just south of Wichita State University
Arkansas River Path
The 10-mile Arkansas River Path is Wichita's longest and most popular multi-use trail, running mainly along the southwest bank of the Big Arkansas River between 21st Street (near I-235) and Galena Street at S. Washington Street. Located in the heart of Wichita's downtown, this paved pathway is full of sites like The Keeper of The Plains, Exploration Place, War Memorials, Historic Delano District, and more.
Parking for and access to the Arkansas River Bike Path is available in many places, including off 21st Street (at trail's end), at the Westside Athletic Fields, Exploration Place, Cowtown Museum, along Mclean Blvd. south of Harry Street, Watson Park and at the southern terminus at Galena and Washington streets.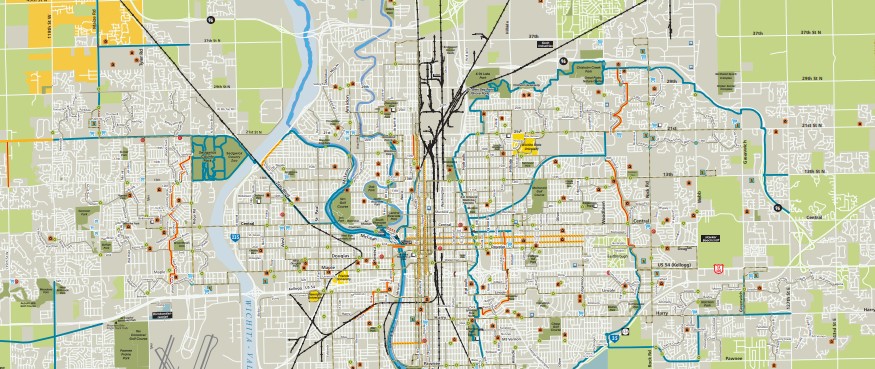 Don't Own A Bike?
Check out Bike Share ICT and rent a bike for a short period of time. Simply download the Zagster app in your phone's app store to buy a membership, find a bike at the station near you, and unlock it. You can ride anywhere you want, but be sure to return the bike to the station for next rider. It will only cost about $3-an-hour and up to $30 a ride. If you purchase an annual membership, any trips under an hour are free, then you pay up to $2-an-hour or $20 a ride.
You can also earn a free bike by volunteering through Bike Walk Wichita. Complete 15 hours of volunteering, and you can select one of the bikes they have to refurbish. They have a variety of volunteer tasks, including bike repair, bike disassembly, and general volunteer jobs. Just show up during their ReCycle Shop hours and you can start earning a bike!
Bike Walk Wichita also offers FREE children's bikes to ANY child who needs a bike! Adult and child must be present, to be sure you get a bike that fits. Helmets and lights are available as well.
Become A Volunteer
Volunteer your services with one of the many local organizations who act as stewards of our land and environment in Sedgwick County. Here are a few examples:
Sedgwick County Zoo
The Sedgwick County Zoo offers positions in several departments with flexible hours available 7 days per week. A volunteer information packet is available upon request via email from the Volunteer Director.
Tanganyika Wildlife Park
Tanganyika Wildlife Park relies on volunteers, and there are a variety of volunteer positions are available. Ages 14 and up are invited to volunteer in the park with tasks such as landscaping, helping with interactive experiences, special events, and more.
Botanica
Wichita's botanical gardens at Botanica are a gorgeous way to spend time volunteering. Volunteers have the opportunity to help maintain the gardens by performing tasks like weeding and watering from April to October.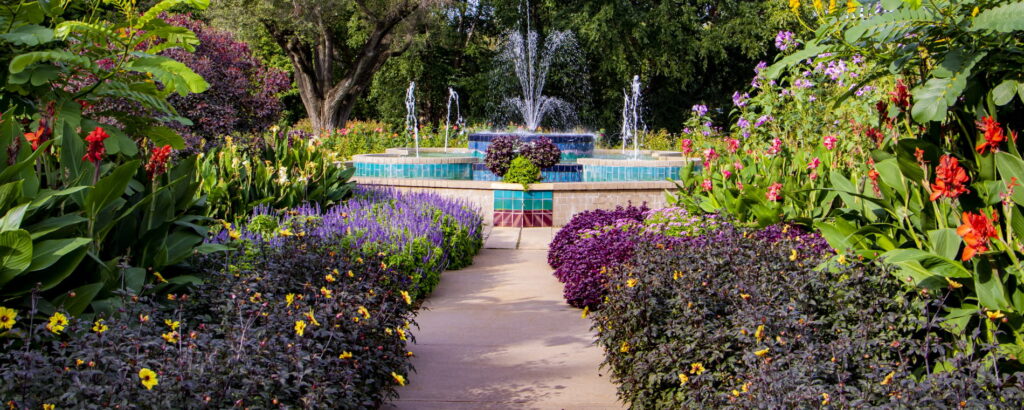 Go Outside
The best way to appreciate our environment is simply to go outside. At HealthCore Clinic, we have a walking/biking trail to encourage staff and patients to get outside as often as possible. Getting sunshine can improve your sleep, reduce stress, maintain strong bones, help keep the weight off, strengthen your immune system, fight off depression, and can give you a longer life. Breathing fresh air can help clear your lungs, give you more energy and mental focus, lower blood pressure and heart rate, help you heal faster, and it can even improve your digestion.
While you're outside, pick up any trash or litter you see to help protect our environment. You are not only outside appreciating our environment, you are also giving back and being an active member of the community. Be sure to use gloves, a trash grabber, or trash poker so you are not touching the litter with your bare hands. Then dispose of the litter properly, ensuring any recyclables are separated from the trash.
So go get out there! Breathe in some fresh air, get some sunshine, and pick up some litter while you are there. Don't just do this on Earth Day, do this on every day you can. Together, we can keep our community healthy.