Wichita July 4th Fireworks
Jun 29
This weekend is the 4th of July (Independence Day) which commemorates the passage of the Declaration of Independence by the Continental Congress on July 4, 1776. The most common celebration? FIREWORKS! It is important to know the laws and regulations around fireworks as well as safety precautions to ensure a safe celebration with friends and family.
Wichita Fireworks Laws & Regulations
Which Fireworks Are Legal?
All fireworks legally purchased within the city limits are legal to shoot off in Wichita. Fireworks with sparks over six feet in the air and any fireworks labeled "shooting flaming balls" are not allowed.
Fines For Violations
Wichita Fire Department Battalion Chief Jose Ocadiz stated, "If residents are caught shooting illegal fireworks or outside designated times, they will be given a $250 ticket plus court fees. Adults can be cited on behalf of juveniles, and property owners will be held responsible for violations on their property."
When Can I Shoot Off Fireworks?
In Wichita, you can shoot fireworks off this year from June 27 – July 5, 10 AM to Midnight.
Where To See Professional Fireworks This Weekend
Professional Fireworks Celebrations This Weekend
The best bet is to leave the fireworks to the professionals. Here are some fun events taking place in Wichita this weekend with fireworks celebrations:
Red, White & BOOM!
Sunday, July 4th, 5:30 PM – 10:30 PM
The Wichita Parks Foundation, Wichita Park & Recreation, and Riverfront Stadium will be hosting the 6th Annual Red, White & BOOM!
Riverfront Stadium will open its gates at 5:30 PM with free admission for all to enjoy live music, yard games, kid's activities, and more. Concession stands will be open for participants to purchase some of their favorite ballpark foods and beverages, while they explore the stadium, enjoy the music, and participate in activities. Musical performances by:
Yogi Bogi
Injoy Fountain
Big Sam
DJ Carbon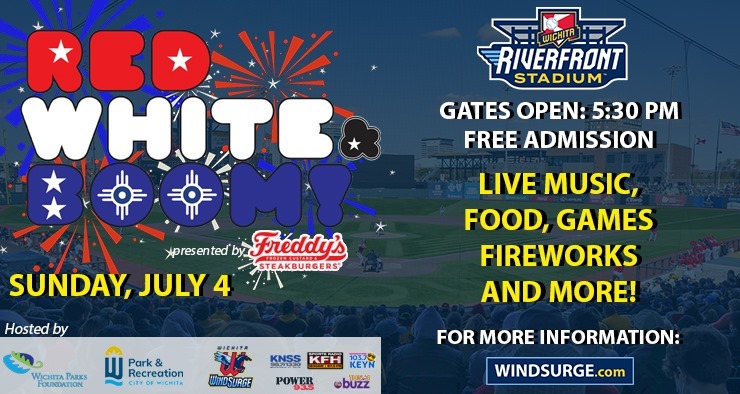 Let Freedom Sing
Saturday, July 3, 6:30 PM
The Holy Cross Lutheran Church will host an Independence Day event on Saturday, July 3 featuring jet flyovers, skydivers, fireworks, the Wichita Grand Opera Orchestra, and more! Events start at 6:30 PM and they are free and open to the public.
Safety Tips & More Information
Fireworks Safety Tips
Never allow young children to handle fireworks
Older children should use them only under close adult supervision
Never use fireworks while impaired by drugs or alcohol
Anyone using fireworks or standing nearby should wear protective eyewear
Never hold lighted fireworks in your hands
Never light them indoors
Only use them away from people, houses, and flammable material
Never point or throw fireworks at another person
Only light one device at a time and maintain a safe distance after lighting
Never ignite devices in a container
Do not try to re-light or handle malfunctioning fireworks
Soak both spent and unused fireworks in water for a few hours before discarding
Keep a bucket of water nearby to fully extinguish fireworks that don't go off or in case of fire
Never use illegal fireworks
Many Businesses Closed Monday
Many businesses will be closed Monday due to the national holiday.
HealthCore Clinic will be closed Monday in observance of the holiday and we resume regular hours on Tuesday, July 6th. If you have an urgent issue, you can call our after-hours number at (316) 262-6262.
Not Everyone Likes Fireworks
Noise from fireworks can cause people distress, especially as fireworks can sound like gunfire. The noise can also cause tinnitus and deafness, or aggravate a nervous condition. People who suffer from asthma can experience discomfort and epileptics can experience seizures following fireworks displays.
Fireworks & PTSD
We know that stress in general drives up symptoms for PTSD and most mental health conditions. So anyone with PTSD is going to be more on edge right now because we're in a pandemic and other factors. Individuals with PTSD, as well as any combat veteran regardless of their PTSD status, are more likely to be triggered or respond to this kind of stimuli. In a combat scenario, you're expecting incoming fire and explosions that you have to be on guard for, which are often happening at night. Fireworks can serve as a very significant reminder of these experiences, PTSD or no, which can really impact people as a stressor. If you're going to use fireworks, try to make sure it's at predictable times in accordance with Wichita's laws and regulations.
Fireworks & Pets
Many people enjoy the booming sounds and flashing lights of fireworks, but they can be terrifying and overwhelming for pets⁠—and possibly hazardous. On the Fourth of July, many pets become so frightened by the noise and commotion of fireworks that they run from otherwise familiar environments and people, and sadly become lost.
Keep your pet safely away from fireworks
Pets are more sensitive to loud noises, flashing lights and strong smells. On the Fourth of July, and other days people are likely to set off fireworks, it's best to leave your pets safely indoors, preferably with a radio or TV turned on to soften jarring noises. Even pets who are usually kept outdoors should be brought inside.
If you are going to an Independence Day event and cannot leave your pet unattended at home, keep them leashed and under your direct control at all times.
If your pet is scared by fireworks, ask a veterinarian for help
There are medications and techniques that might help alleviate your pet's fear and anxiety. Speak with your vet in advance to make a plan.