National Health Center Week
Jul 23
August 8th – 14th, 2021 is National Health Center Week and this year's theme is "The Chemistry for Strong Communities." HealthCore Clinic is kicking off the week with a HUGE event on Saturday, August 7th that will include back-to-school physicals/immunizations, dental checkups, free Covid-19 vaccinations, backpack giveaways, bicycle giveaways, free food, free ice cream, music, activities, and more!
Health centers like HealthCore Clinic provide comprehensive care to over 30 million patients at 11,000 locations across the United States. Together, we are creating The Chemistry for Strong Communities!
What Is National Health Center Week?
National Health Center Week (NHCW) is an annual celebration of all the health centers across the United States with the goal of raising awareness about the mission and accomplishments of America's health centers over the past five decades.
Community health centers like HealthCore Clinic serve as beacons of strength, service, and care in our communities. In moments of pain and loss, community health centers offer support and love. In moments of triumph, they offer hope and a vision for the future.
At HealthCore Clinic, patients are more actively engaged in improving their health through a team-based approach. We use responsive preventative services, including research-based initiatives that will allow patients access to premier medical advances. Our integrated care approach means that our clients have convenient, affordable access to improve their whole health and wellness—with medical, dental, behavioral health, and pharmacy services all under one roof.
This National Health Center Week honors the front-line providers, staff, and beloved patients who lost their lives during the ongoing COVID-19 pandemic. From the very beginning of the crisis, Community Health Centers began finding innovative ways to provide preventative and primary care to their patients. At HealthCore Clinic, we teamed up locally with GraceMed Health Clinic, Hunter Health Clinic, and Guadalupe Clinic to create a safety net system to ensure no one was left behind. We provided hundreds of free COVID-19 tests at multiple sites, offered antibody testing, created a respiratory clinic, launched telehealth services, and now offer free COVID-19 vaccines.
During this week of remembrance, we ask you to light a candle or practice a moment of silence to honor those community health leaders and patients who were lost across America. As we commemorate those lives and celebrate the future of Community Health, let's shine a light across the country that will embody the future of primary health care for underserved populations.
Focus Areas During NHCW
Each day of NHCW 2021 is dedicated to a particular focus area:
Sunday, 8/8: Public Health in Housing Day
Monday, 8/9: Healthcare for the Homeless Day
Tuesday, 8/10: Agricultural Worker Health Day
Wednesday, 8/11: Patient Appreciation Day
Thursday, 8/12: Stakeholder Appreciation Day
Friday, 8/13: Health Center Staff Appreciation Day
Saturday, 8/14: Children's Health Day
Each day, we will share stories, resources, and tools on our social media pages celebrating those who work in a health center in Wichita and around the country. Know of someone working in a Wichita health center you would like to recommend to us to spotlight? Contact us on Facebook today.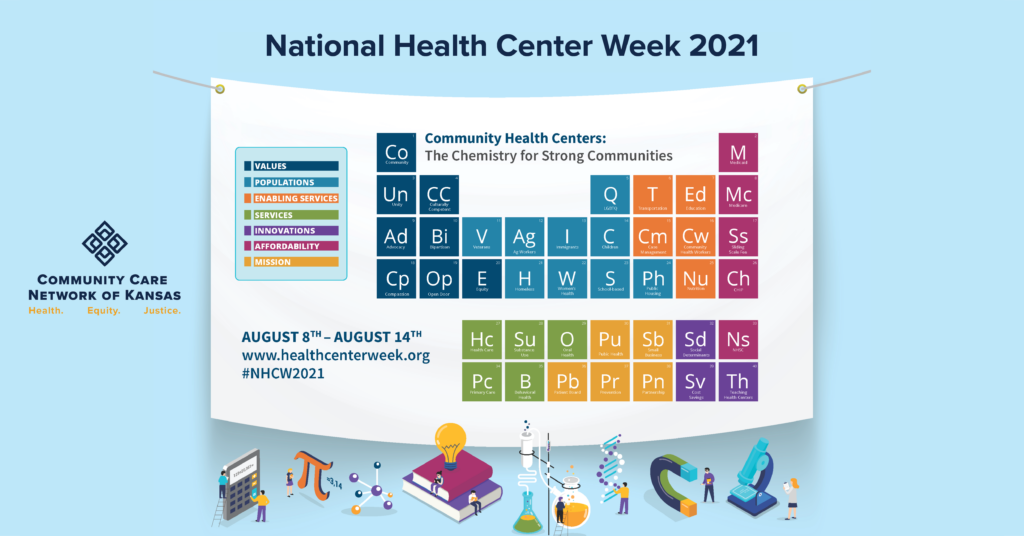 Wichita NCHW Event
This year we are celebrating National Health Center Week (NHCW) with a huge celebration on Saturday, August 7th. With kids headed back to Wichita schools on August 12th, we've created a family-friendly event that will help get you and your kiddos ready to get back to the classrooms.
When & Where
Saturday, August 7th
9 AM – Noon
HealthCore Clinic (West Parking Lot & Main Entrance)
Free Activities
All activities are free and open to the public!
Greg "The Hitman" Williams from Power 93.5 on-site with music and giveaways
Free food & refreshments throughout the event
Free snowcones & frozen treats
Free tee-shirt printing by BrickMob
Free facepainting
Bicycle Jam & Bike Giveaway by Bike Walk Wichita
Free LOADED Backpack Giveaways
Wichita Police & Fire demonstrations
Haircuts and styling
…and much, much more!
Free Clinic Services
To accommodate the demand for these services, we ask that you reserve a time in advance. We will accommodate walk-up service as available.
Immunizations

Free COVID-19 vaccinations
Free Dental checkups
Free Behavioral health check-ins
Sports physicals & school physicals ($15)
Community Mural Project
HealthCore Clinic has teamed up with BrickMob to create an iconic community mural at the main entrance of our clinic celebrating you! Share with us what HealthCore means to you, what is important to you about this community, and what your vision is for the future. Your stories will be the inspiration for the mural which will be painted and unveiled this fall. There are 3 ways you can share your story:
Share your story in a short video interview at the event
Share your story by writing it at the event
Share your story by using our online form
Don't miss this amazing opportunity to change the face of HealthCore Clinic by helping us celebrate the community we live in and serve. The more stories you share, the more we can celebrate our community through this mural project.


National Health Center Week FAQs
How many years has National Health Center Week been happening?
National Health Center Week has been celebrated for over 30 years! Each year, all the nation's health centers join together in a week of celebration to showcase their programs and deliver a strong message nationwide for their health centers and patients.
Why is Health Center Week Important?
National Health Center Week gives health centers the opportunity to shed light on the health needs in our communities and the shared stake in community health. It allows us to show not only what we do but how our unique model of care is offering solutions to the nation's health care crisis. Public support and confidence in our programs often result in legislative victories that can help us serve greater needs and lead this nation to a more equitable health delivery system for all people.
Is National Health Center Week officially recognized?
Both the U.S. House of Representatives and Senate have unanimously passed resolutions calling upon the nation to celebrate National Health Center Week and recognize the contributions of America's Health Centers. The President of the United States has also issued Presidential Proclamations. In addition, governors, mayors, and local governing bodies issue proclamations in tribute to the role of Health Centers in expanding access to affordable and quality care in their states and communities.
Why is National Health Center Week observed in August?
Congress traditionally takes a recess in August allowing US Representatives and Senators to return to their home states and congressional districts. It is normally the time just before final decisions are made in Congress on appropriations and a host of other issues that may affect health center programs. August is also an ideal time to reach out to families and children about routine screenings and back-to-school Immunizations.
What National Health Center Week events are happening this year?
Searching for Wichita Health Center events? HealthCore Clinic is a health center in Wichita KS and is celebrating National Health Center Week (NHCW) with a huge celebration on Saturday, August 7th. With kids headed back to Wichita schools on August 12th, this family-friendly event can help get families prepared for school with sports physicals, immunizations, COVID-19 vaccinations, checkups, backpacks, and more.
Plan Your Visit
Hours
Mon–Thur: 8am – 7pm
Friday: 8am – 5pm
Saturday: 8am – 12pm
Sunday: Closed
Hours are temporarily limited due to COVID-19.
Location
HealthCore Clinic
2707 E 21st St N
Wichita, KS 67214
Phone
After-Hours Immediate Care: (316) 262-6262
Fax
Clinical Fax: (866) 514-0974
Dental Fax: (888) 662-7106