Women's Health Fair: Saturday, September 11
Aug 27
HealthCore Clinic is hosting a Women's Health Fair on Saturday, September 11 from 9 AM-1 PM featuring a number of local businesses, health services, and guest speakers. Included in this event is the Pink Mammography Bus, a mobile unit providing state-of-the-art mammograms and early breast cancer screenings.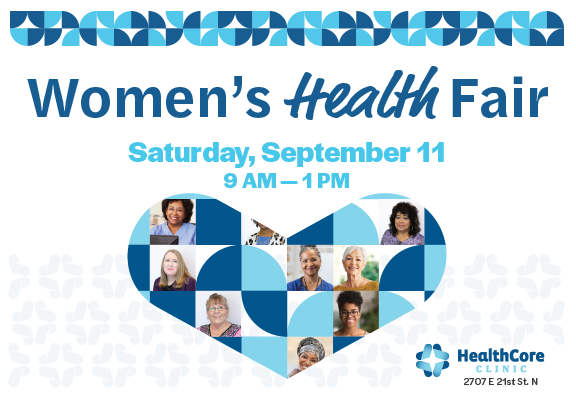 Event Information
Saturday, September 11
9 AM-1 PM
HealthCore Clinic
2707 E 21st St N, Wichita, KS 67214
Health Activities & Booths
Well Woman Exams (9 AM-12 PM)
Free COVID-19 Vaccines
Blood Pressure Checks
Dental Information
Behavioral Health Information
Zumba Demonstrations
Lifestyle Booths & Vendors
Mary Kay
Colo Guard
Paparazzi Jewelry
Color Street Nails
Pink Zebra, All Natural Aromatherapy
Flutterby's Custom Prints & Crafts
Mammograms
The Pink Mammography Bus from Diagnostic Imaging Centers will be on-site providing mammograms and early breast cancer screenings from 9 AM-3 PM. Please call 913-344-9989 in advance to schedule a time.
Guest Speakers
Special guest speakers Dr. Samantha Beck & Rhonda Hicks will be speaking from 12-12 PM about their experiences in breast cancer.
Dr. Samantha Beck is a Breast Specialist with a passion for people, a passion for helping, and a passion for teaching. She is dedicated to providing quality care as well as educating breast care patients to ensure the best possible outcome. Dr. Beck is also committed to serving others through medical missionary work.
Rhonda Hicks is a breast cancer survivor who will be sharing her story. "You don't have to walk your journey alone. There is someone available for you."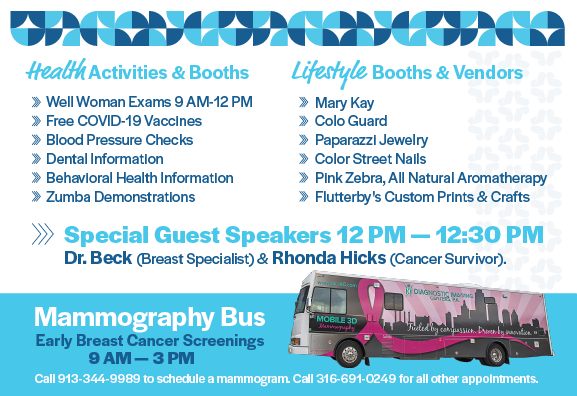 Breast Cancer In America
Breast cancer is a disease in which malignant, cancerous cells form in the tissues of the breast.
This year, an estimated 42,170 women will die from breast cancer in the United States. Breast cancer is the most common cancer in American women, except for skin cancers. It is estimated that in 2020, approximately 30% of all new women's cancer diagnoses will be breast cancer. There are over 3.5 million breast cancer survivors in the United States, and early screening is one of the best tools we have to combat this disease.
64% of breast cancer cases are diagnosed at a localized stage (meaning there is no sign that the cancer has spread outside of the breast), for which the 5-year survival rate is 99%.
Clinical Breast exams are an important part of early detection. Although most lumps are discovered through breast self-exams, an experienced professional may notice a suspicious place that fails to register as a warning in the patient's mind.
Get screened for breast cancer and ensure you have regularly scheduled mammograms.
What To Expect During A Mammogram
A mammogram is an x-ray that allows a qualified specialist to examine the breast tissue for any suspicious areas. The breast is exposed to a small dose of ionizing radiation that produces an image of the breast tissue.
Mammograms can often show a breast lump before it can be felt. They also can show tiny clusters of calcium called micro-calcifications. Lumps or specks can be caused by cancer, fatty cells, or other conditions like cysts. Further tests may be needed to find out if abnormal cells are present.
Who Should Get A Mammogram?
All women 40 and older should have mammograms every 1 or 2 years.
Women who are younger than 40 and have risk factors for breast cancer should ask their healthcare professional whether mammograms are advisable and how often to have them.
Even women who have no symptoms and no known risks for breast cancer should have regularly scheduled mammograms to help detect potential breast cancer at the earliest possible time.
All people, whether male or female, are born with some breast cells and tissue. Even though males do not develop milk-producing breasts, a man's breast cells and tissue can still develop cancer. Even so, male breast cancer is very rare. Less than one percent of all breast cancer cases develop in men, and only one in a thousand men will ever be diagnosed with breast cancer.
Schedule A Mammogram
To schedule your mammogram during the HealthCore Clinic Women's Health Fair, please call 913-344-9989 in advance to schedule a time.
Plan Your Visit
Hours
Mon–Thur: 8am – 7pm
Friday: 8am – 5pm
Saturday: 8am – 12pm
Sunday: Closed
Hours are temporarily limited due to COVID-19.
Location
HealthCore Clinic
2707 E 21st St N
Wichita, KS 67214
Phone
After-Hours Immediate Care: (316) 262-6262
Fax
Clinical Fax: (866) 514-0974
Dental Fax: (888) 662-7106