Sedgwick County Expands COVID-19 Testing Days & Hours
Jan 21, 2022
Sedgwick County has expanded its COVID-19 testing hours and included Sundays. If you need to get tested for COVID-19, please read the press release from the Sedgwick County Health Department included in this article. If you are unsure if you have COVID-19, please take our online symptom checker. HealthCore Clinic has all 3 Covid Vaccines, which are safe, effective, and free.
COVID-19 Testing Locations & Hours
4115 E Harry St, Wichita KS 67218
Nose, Throat & Saliva PCR Testing (No Antigen)
Monday: 8 AM – 5 PM
Tuesday: 8 AM – 5 PM
Wednesday: 8 AM – 6 PM
Thursday: 8 AM – 5 PM
Friday: 8 AM – 5 PM
Saturday: Closed
Sunday: 12 PM – 5 PM (saliva only)
777 E. Waterman, Wichita KS 67202
Saliva PCR Testing (No Antigen)
Monday: 2:30 PM – 7 PM
Tuesday: 2:30 PM – 7 PM
Wednesday: 2:30 PM – 7 PM
Thursday: Closed
Friday: 2:30 PM – 7 PM
Saturday: 8 AM – 5 PM
Sunday: Closed
Sedgwick County Health Department Press Release: January 21, 2022
Sedgwick County Expands COVID-19 Testing for the Community: New Testing Site and Sunday Hours
(Sedgwick County, Kan.) – On Saturday, Jan. 22, 2022, Sedgwick County Health Department (SCHD) will open a drive-thru COVID-19 testing site at 777 E. Waterman St. in downtown Wichita. The location is a Wichita Transit building which has been offered by City of Wichita for County use due to increased demand for testing. The new site is supported by one of two Kansas National Guard teams recently assigned to Sedgwick County as COVID-19 testing support through Feb. 9.
Drive-thru testing site hours will be Monday, Tuesday, Wednesday and Friday from 2:30 to 7 p.m. and Saturday from 8 a.m. to 5 p.m. No appointments are necessary.
On Sunday, Jan. 23, SCHD will expand testing hours at its 4115 E. Harry St. location. The new additional hours are Sundays from 12 p.m. to 5 p.m. A second National Guard Team is assigned to the E. Harry testing site to expand capacity.
Only self-collected saliva sampling is offered at the drive-thru site and on Sundays at the E. Harry location. Before arriving at either location, people should register with WSU's Molecular Diagnostics Laboratory (MDL) at https://mdl.wichita.edu/GenePortal_LIVE. The saliva testing is PCR performed by MDL.
"This drive-thru site with evening and Saturday hours will help to meet the overwhelming demand for COVID-19 testing, especially as Sedgwick County cases are spiking due to Omicron," said Adrienne Byrne, Sedgwick County Health Director.
"Our partnerships with the Kansas Department of Health and Environment, the City of Wichita and the Kansas National Guard have enabled us to get this testing site up and running quickly," she added.
To avoid a rejected test, people cannot eat, drink, smoke or chew anything for 30 minutes before producing a saliva sample. SCHD does not recommend saliva testing for children less than five years old. Children and adults can be tested by nose or throat swab at 4115 E. Harry during the weekday hours of 8 a.m. to 5 p.m. Monday, Tuesday, Thursday and Friday and 8 a.m. to 6 p.m. Wednesday.
For a list of additional testing locations, please visit https://www.sedgwickcounty.org/covid-19/sampling-and-testing-information/covid-19-testing-locations/.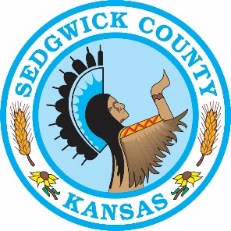 About Sedgwick County
The mission of Sedgwick County is to cultivate a healthy, safe and welcoming community through exceptional public services, effective partnerships and dedicated employees. Founded in 1867, the County has steadily grown to span 1,008 miles, has a population of over 516,000 people and contains 20 cities, including Wichita, the largest city in Kansas. The 2022 Adopted Budget of $483.6 million focuses on appropriate compensation for employees throughout the organization as well as adding resources for increases in the cost of doing business and continued recovery from the COVID-19 pandemic. Sedgwick County's values of Trust, Integrity, Collaboration, Compassion and Innovation back the strategic plan that focuses on delivering the best services possible that are sustainable and manageable under the current economic and health crisis.