Black K.A.R.E. — Kidney Awareness, Resources, and Education
May 02, 2022
Black Americans are almost four times as likely as White Americans to develop kidney failure. While Black Americans make up about approximately 13% of the population, they account for approximately 35% of the people with kidney failure in the United States (National Institutes of Health).
Black K.A.R.E. — which stands for "Kidney Awareness, Resources, and Education" — has launched an online toolkit on its website to provide resources, information, and more about Chronic Kidney Disease (CKD), self-care for kidney health, diagnosis and treatment, and much more.
Kidney Awareness, Resources, and Education
Chronic Kidney Disease Awareness
African Americans are at increased risk for chronic kidney disease (CKD). About 37 million American adults have CKD and most don't even know it. Early detection and treatment can prevent complications from kidney disease. Understanding more about CKD—what is it, what the risk factors are, how the disease progresses, and how to find out if you have CKD—will help you protect your kidney health.
Click below to learn more about CKD and see if you are at risk.
Living with Chronic Kidney Disease
Diagnosis and Treatment Options
A diagnosis of chronic kidney disease can be scary and stressful. Educating yourself about treatment options and resources will empower you to shape your healthcare outcome.
Here are 3 important steps to managing life around CKD:
Step 1. Manage Your Health
A diagnosis of CKD doesn't mean that you have kidney failure. Know your stage of kidney disease. In the early stages, there are many things that you can do to help slow disease progression.
Your lab test values are a guide to how slowly or quickly your kidney disease is progressing. Keep close watch on your results. The Kidney Health Checklist for a Doctor's Visit is a helpful tool for tracking your labs and keeping a list of questions. Follow up regularly with your healthcare team so that they can monitor for early problems and complications.
Step 2. Learn About Treatment Options
If your kidneys fail, you will need treatment to replace the work your own kidneys can no longer do. Treatment options include dialysis and kidney transplantation. What works for some people may not work for you. Everyone's journey with kidney disease is different. Take the time to learn the positives and negatives of each option so that you can make decisions based on your needs.
Step 3. Be Your Own Advocate
Be your own advocate. Get involved in developing your treatment plan—don't just leave it to your healthcare team to make all the decisions for you. Managing your kidney disease requires coordination among doctors, nurses, dieticians, pharmacists, social workers, and psychologists. Stay in close contact with your healthcare team.
Ask questions. Make sure you understand your treatment options. Make your wishes known. Learn about strategies and resources that will empower you to shape your own health outcome.
Race and Kidney Disease
"Disparities across racial and ethnic groups in the United States exist in kidney disease care, including diabetes and blood pressure control, nephrology referral, dialysis modality, and transplantation, and with regard to both living and deceased kidney donation."
Delgado C, Baweja M, Ríos Burrows N, et al. Reassessing the inclusion of race in diagnosing kidney diseases: an interim report from the NKF-ASN task force. J Am Soc Nephrol.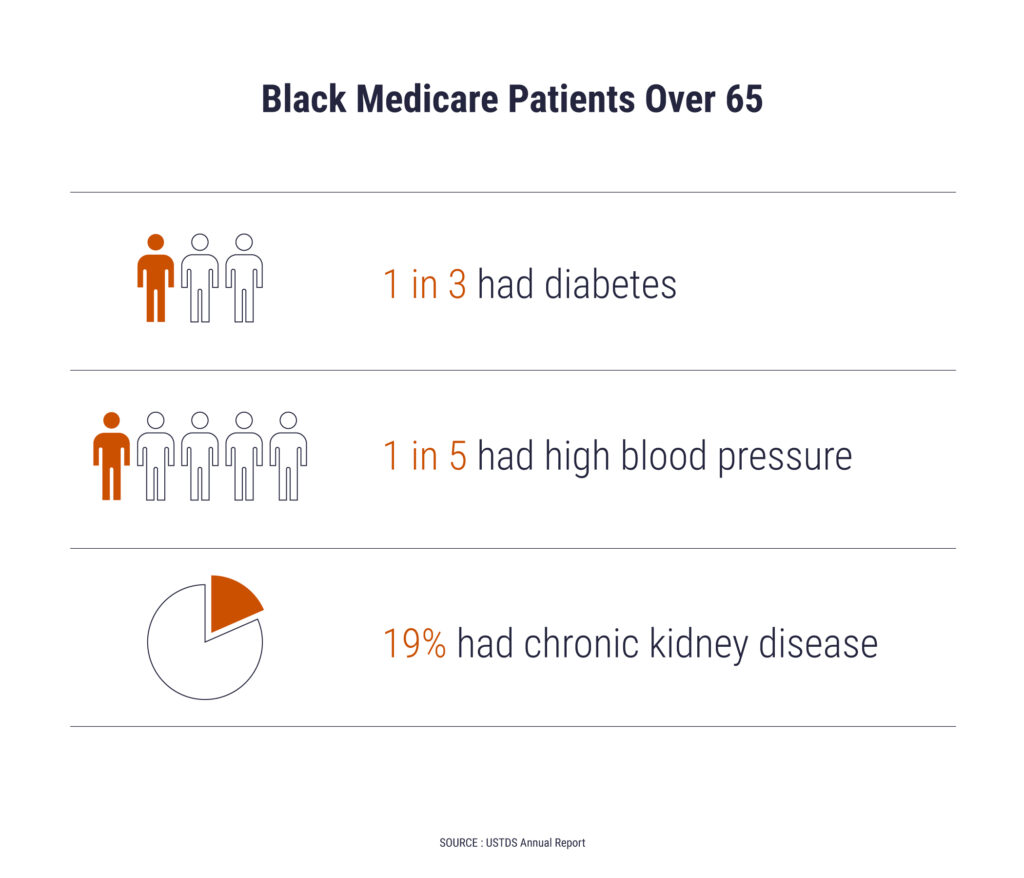 Black K.A.R.E. Resource Library
Take Action!
Black K.A.R.E. has assembled a number of resources and tools in their Resource Library to help you take charge of your health.
Visit the Black K.A.R.E. Resource Library to learn more, see resources for transplants, get guidance on healthy foods and eating habits, exercise and fitness resources, and hear from industry experts!