Women's Health Fair: Saturday, September 10
Sep 05, 2022
Join us this Saturday, September 10, for our Women's Health Fair featuring the Pink Mammogram Bus, Well Woman Exams, vendors, giveaways and more! The Women's Health Far is from 9 AM — Noon, but certain health services will run until 3 PM (details below).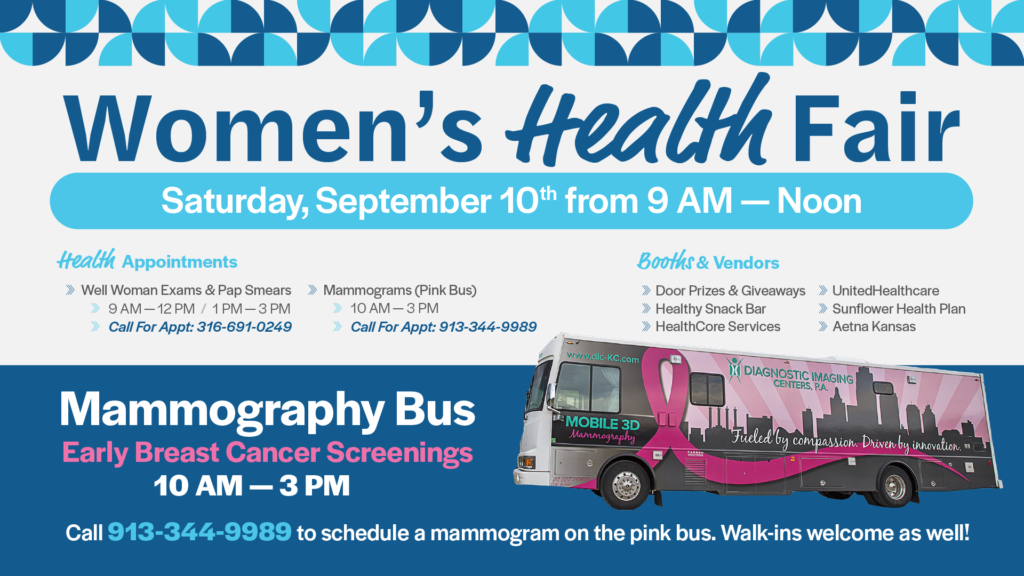 Mobile Mammograms from the Pink Bus
Pink Mammography Bus
The Pink Mammography Bus from Diagnostic Imaging Centers will be on site from 10 AM — 3 PM providing mammograms and early breast cancer screenings at HealthCore Clinic. To schedule an appointment, please call 913-344-9989. Walk-ins will also be welcome during the health fair.
Breast cancer screenings check a woman's breasts for cancer before there are signs or symptoms of the disease. Although breast cancer screening cannot prevent breast cancer, it can help find breast cancer early, when it is easier to treat. Talk to your doctor about which breast cancer screening tests are right for you, and when you should have them.
Women who are 50 to 74 years old and are at average risk for breast cancer get a mammogram every two years. Women who are 40 to 49 years old should talk to their doctor or other health care professional about when to start and how often to get a mammogram. Women should weigh the benefits and risks of screening tests when deciding whether to begin getting mammograms before age 50.
What To Expect On The Pink Bus
Preparing for your mammogram on the Pink Mammography Bus:
When scheduling your mammogram with Disgnostic Imaging Centers (the pink bus), tell the scheduler that the appointment is on the mobile coach at HeallthCore Clinic for Saturday, September 10, 2022.
Women 35-39 years of age are eligible for a screening baseline mammogram. They should check with their insurance provider prior to the screening for plan eligibility and coverage.
Women 40 years or older do not need an order.
Your most recent screening mammogram should be 12 months or more prior to the current mammogram for insurance coverage reasons. Please check with your insurance provider for coverage if you are earlier than 12 months.
Please complete the Breast Imaging Form and the Medical Records Release Form (Dic-KC.com), then provide them at the time of your appointment. You will also need your insurance card and the name of your primary care physician.
On the day of your mammogram, please refrain from wearing deodorant, lotion, or perfume from the waist up. Also wear a two-piece outfit so you don't have to fully disrobe.
Well-Woman Exams, Pap Smears, Pelvic Exams and Breast Exams
Well Woman Exams & Pap Smears
HealthCore Clinic will be conducting Well Woman Exams and Pap Smears at the clinic from 9 AM — 12 PM and then from 1 PM — 3 PM. To schedule an appointment, please call 316-691-0249. Walk-ins will also be welcome during the health fair.
Unlike regular physicals and doctor's appointments, a well-woman exam is centered around the health of your vagina, cervix, uterus, and breasts. Your health will be taken into account as a whole, but the main focus of a well-woman exam is your reproductive health.
Well-woman exams usually include three things
Pap smear
Pelvic exam
Breast exam
These exams are essential as they can catch early signs of cancer or other health problems before they get out of hand. At the time of your Well Woman Exam, you can also speak with your doctor about other health concerns you may have.
What To Expect During a Well Woman Exam
When you arrive for your well-woman exam, you'll go through the regular physical exam process of having your weight taken and your pulse and blood pressure taken. You may also be asked for a urine sample. You will be given a pelvic exam, pap smear, and breast exam. Here's what you can expect for each one:
Pelvic Exam: For the pelvic exam, your doctor will put on gloves and lubricate two gloves that they will then insert into your vaginal canal to perform a quick exam. They'll apply some pressure to your abdomen and check for abnormal lumps or pain. Expect pressure around the middle and sides of your abdomen, and don't be afraid to speak up if you feel pain or tenderness during the exam. That's the whole purpose of it.
Pap Smear: During the pap smear, your doctor will insert a lubricated speculum into your vaginal canal to view the inside of your vulva, vagina, and also your cervix. They'll swipe your cervix with a cotton swab and send it to a lab in order to make sure there aren't any signs of cervical cancer and ensure your cervix is healthy.
Breast Exam: For your breast exam, you may be asked to lift one arm behind your head so that your doctor can easily examine each breast. The exam itself should be pain-free as your doctor gently massages each breast in small, circular movements. They'll look for any abnormal lumps or possible cysts. Breast exams will catch early signs of breast cancer. While not all lumps are cancerous, catching them early on will help reduce the risk and let your doctor know what to keep an eye out for. If any lumps are found during the exam, your doctor will order a biopsy to determine if they are cancerous or not.
Free Services, Prizes, Giveaways, Vendors and More!
Other Events During The Health Fair
Along with the medical services, there will be a ton of fun events and activities at the fair including…
Door Prizes
Giveaways
Healthy Snack Bar
Vendor Booths
Free Services
…and more!
UnitedHealthcare, Sunflower Health Plan, and Aetna Kansas will be there to help if you are in need of health insurance or want to discuss plans for 2023. HealthCore will also have services from our medical, dental, behavioral health, and pharmacy departments.
It's a block party! But this block party is special because it is all about YOU!
Don't miss out — come to HealthCore Clinic on Saturday, September 10 from 9 AM — Noon to join in the fun and be proactive about your health.