Free Produce Giveaway: Saturday, October 29
Oct 20, 2022
We've teamed up with the Kansas Food Bank for another free produce giveaway! The produce is FREE and anyone in need of food is invited. We will be handing out free fresh produce while supplies last on Saturday, October 29, starting at 9 AM.
The free produce giveaway starts at 9 AM and goes until all the produce is gone, which typically happens in the first 1-2 hours.
The line tends to begin forming about an hour in advance.
The produce giveaway is outside, so please be sure to dress appropriately for the weather.
Please bring your own bag or box to carry your produce if possible. We will provide boxes while supplies last.
We will have volunteers on hand to help.
There is parking available in our West parking lot.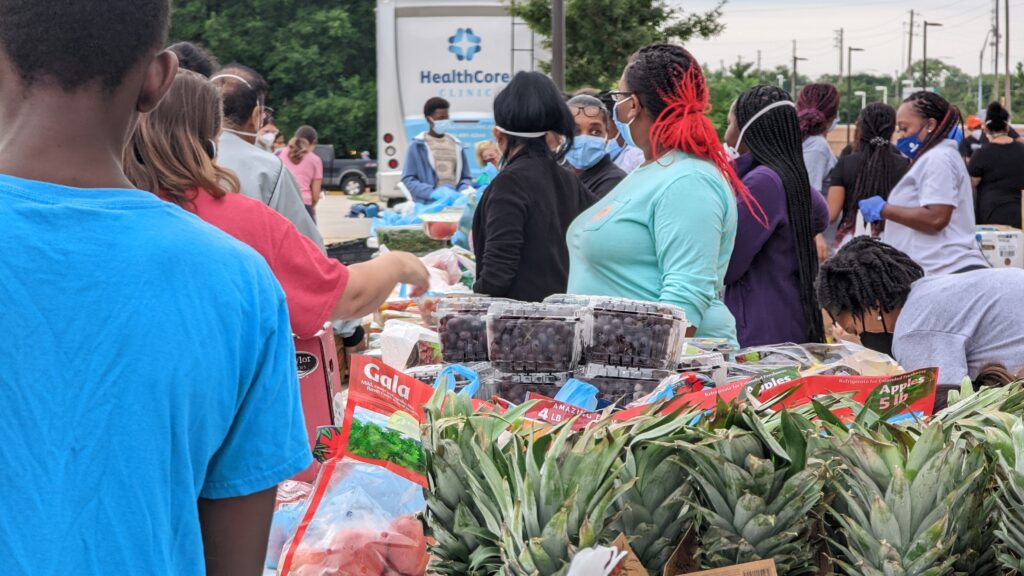 No one should go without food
The Kansas Food Bank has the mission of providing hunger-relief whenever and wherever it is needed throughout its 85-county service area. They are committed to safeguarding the health, well-being, and productivity of food-insecure Kansas families and their children, as well as senior citizens, the homeless and the chronically ill, and all who live in poverty.
they partner with hunger relief agencies across the state: food pantries (like HealthCore Clinic's food pantry), soup kitchens, and shelters to reach individuals and families who seek food assistance. In addition, the Kansas Food Bank runs several programs geared toward reaching children, families, and senior citizens who experience food insecurity.
The Kansas Food Bank worked with the University of Missouri's Interdisciplinary Center for Food Security to examine the impacts of hunger and the difficult choices many people face to make ends meet. This study illustrates the critical role the Kansas Food Bank and pantries (like HealthCore Clinic's) play in supplying food to struggling families.
39% of households had to choose between paying for food and medicine/medical care
48% had to choose between food and utilities
39% consumed food past its expiration date
33% had to choose between paying for food and housing
25% sold or pawned personal items to pay for food
HealthCore Clinic's Food Pantry
Food insecurity and health are intricately linked. People experiencing food insecurity face challenges in accessing nutritious foods, and a diet that is lacking healthy foods increases the risk of developing other health issues. "Food Is Medicine" is the initiative to provide access to healthy foods and nutrition education to food-insecure neighbors, whether through produce distributions or pantries within a health clinic like at HealthCore Clinic in Wichita.
"Having access to the pantry on-site, at the same time the patients are experiencing a food insecurity, is so important." -Davna Gould, HealthCore Clinic.
If you are a patient at HealthCore Clinic and experiencing food insecurity, please speak with a member of our team. Our on-site pantry is stocked every week with fresh and preserved food to help ensure our community members in need have access to healthy, free food.
The employees of our food pantry have experienced food insecurities ourselves. We have faced the hard decision of having to choose between medical care, housing payments, and buying food. These are choices no one should ever have to make, but we know it happens all the time…we've been there.
We also know what it is like to feel "shamed" for being in this situation, and we know that shame is often our own that we put on ourselves. There is no shame in asking for help, in fact, we have found it to be empowering and the first step on the road to improvement.
Our pantry is a judgment-free zone.
If you need help, we're here to help. No questions asked. The only question we ask is, "How can I help you?"