Reduce The Spread Of COVID-19
Mar 19, 2020
During this time, social distancing is one of the best practices for helping reduce the spread of COVID-19. The Kansas Department of Health has provided these valuable tools on how you can help reduce the spread of COVID-19 and what to do if you have symptoms. We encourage you to read these, download them, share them, and make a plan using the Family Action Plan Tool Kit.
---
Durante este tiempo, el distanciamiento social es una de las mejores formas de ayudar a reducir la propagación de COVID-19. El Departamento de Salud de Kansas ha proporcionado estas valiosas herramientas sobre cómo puede ayudar a reducir la propagación de COVID-19 y qué hacer si tiene síntomas. Lo alentamos a leerlos, descargarlos, compartirlos y hacer un plan con el kit de herramientas del plan de acción familiar.
---
Read These And Please Share Online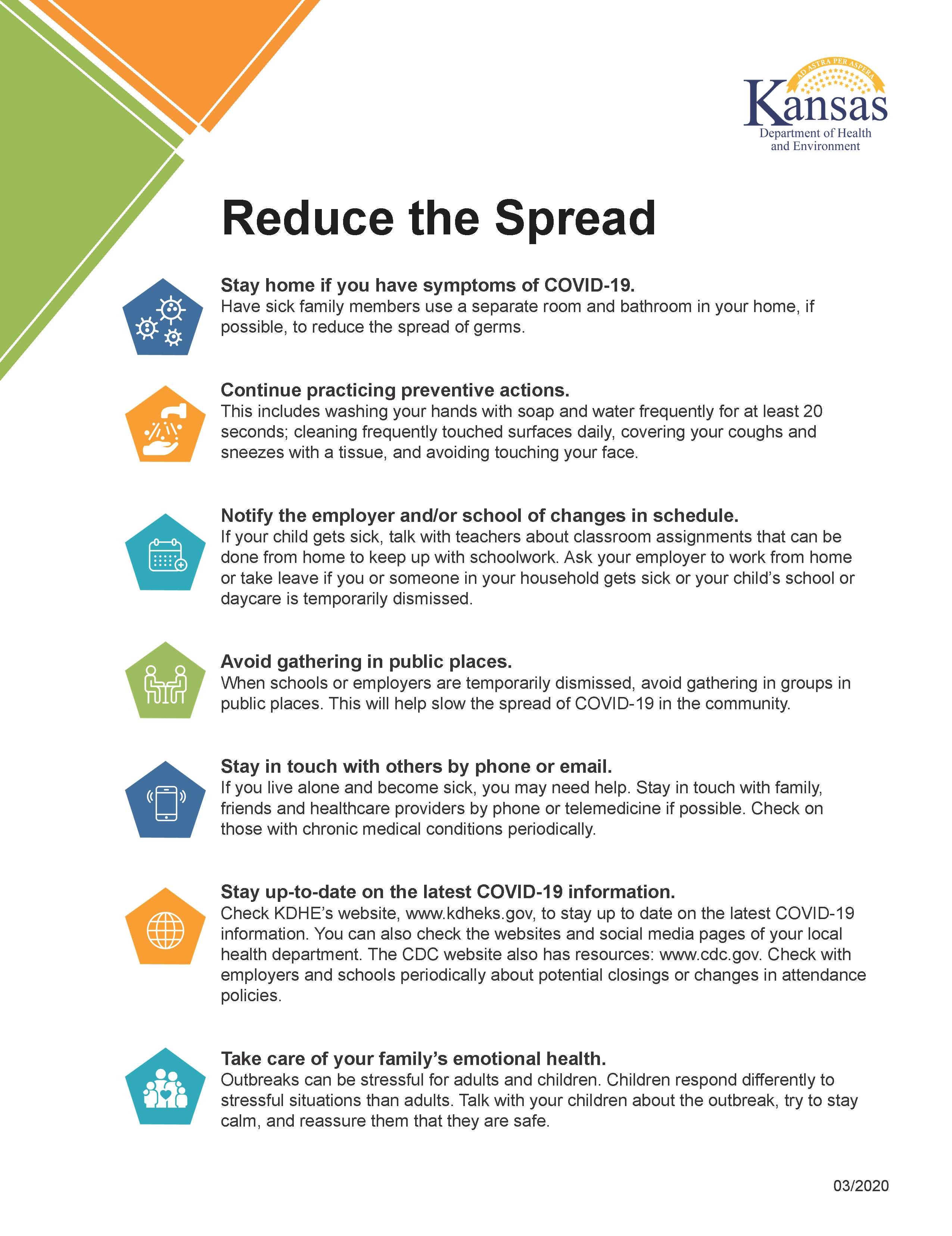 ---
Useful Tools In Different Languages
ENGLISH
SPANISH
COVID-19 (anteriormente conocido como el "nuevo coronavirus") es una nueva cepa del virus que se está propagando de persona a persona. Actualmente se encuentra en los Estados Unidos y muchos otros países, después de originarse en China.
PASHTO
د دې ناروغۍ د خپریدو مخنیوي کې د مرستې لپاره لاندې اقدامات تعقیب کړئ. که ته کویډ – 19 ناروغي لرې یا شک شتون ولري چې پدې ویروس اخته شوی یې چې د کویډ – 19 لامل کیږي، نو په خپل کور او ټولنه کې خلکو ته
TIGRYNA
ናይናይ COVID-19 ሕማምሕማም ምስምስ እትሓሙ፡እትሓሙ፡ ወይድማወይድማ በቲበቲ COVID-19 ዘሕምምዘሕምም ቫይረስቫይረስ ተጠቒዐተጠቒዐ ኢልኩምኢልኩም ምስምስ እትጥርጥሩ፡እትጥርጥሩ፡ እቲእቲ ሕማምሕማም ንኣብንኣብ ቤትኩምቤትኩም ይኹንይኹን ኣብኣብ ማሕበረሰብኩምማሕበረሰብኩም ዝርከቡዝርከቡ ሰባትሰባት ከይመሓላለፍከይመሓላለፍ ምእንቲ፡ምእንቲ፡ ነዞምነዞም ዝስዕቡዝስዕቡ ስጉትታትስጉትታት ክትክተሉክትክተሉ ይግባእ።ይግባእ።
SWAHILI
Ikiwa una ugonjwa wa COVID-19 au ukishuku kuwa umeambukizwa virusi vinavyosababisha COVID-19, fuata hatua zifuatazo ili kusaidia kuzuia ugonjwa huo usisambae kwa watu walio nyumbani kwako na katika jamii.
SOMALI
Haddii aad qabto COVID-19 ama aad ka shakisan tahay inaad qaadday fayraska keena COVID-19, raac tilmaamaha hoose si aad gacan uga gaysato kahortagga cudurka inuu ku faafo dadka gurigaaga jooga ama bulshada.
KINYARWANDA
Karaba intoki ukoresheje isabune n'amazi mu masegonda 20-30. Niba intoki zanduye, karaba intoki ukoresheje isabune n'amazi, udakoresheje imiti isukura intoki, mu masegonda 40-60. Koresha imiti isukura intoki cyangwa amazi arimo kolore, igihe isabune n'amazi bidahari.