Children's Dental Health Month Coloring Contest
Feb 11, 2021
Smile! February is National Children's Dental Health Month! HealthCore Clinic is here to help promote the benefits of good oral health, because developing good dental health habits at an early age, including scheduling regular dental visits, helps children get a good start on a lifetime of healthy teeth and gums. Healthy children are happy children!
Every year we host a Coloring Contest for the kiddos with a chance to win an electric toothbrush from Oral-B. This year, you have the option to participate by coming into HealthCore or doing it entirely online.
How To Get The Coloring Page
You can pick up this year's coloring page at the HealthCore Clinic Dental office on the second floor of HealthCore Clinic or by downloading it as a PDF using the button below.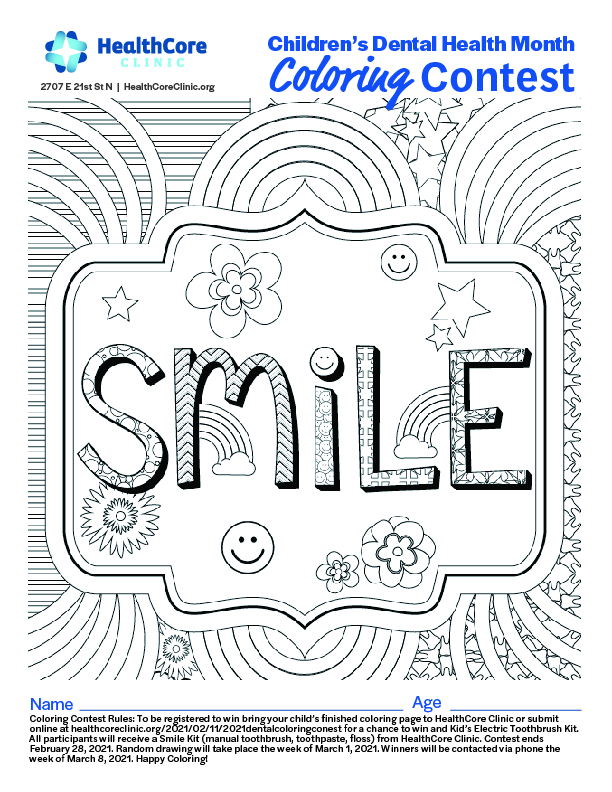 How To Enter
To be registered to win, bring your child's finished coloring page to HealthCore Clinic or use the online submission form (below) by 11:59 PM on February 28, 2021.
Rules & Regulations
Kiddos will be entered for a chance to win and Kid's Electric Toothbrush Kit. All participants will receive a Smile Kit (manual toothbrush, toothpaste, floss) from HealthCore Clinic. The contest ends on February 28, 2021, at 11:59 PM CST. A random drawing will take place the week of March 1, 2021. Winners will be contacted via phone the week of March 8, 2021. Child must be a resident of Wichita, KS, or surrounding cities to be eligible to win.